Polished or honed? How Do You Choose The Right Countertop Finish?
You've just chosen the perfect stone for your new custom countertops and are now down to the final details of your dream kitchen design. You know the countertop you've selected will pull together the whole room and fit your lifestyle perfectly, and you want to choose a countertop finish that will perfectly complete your vision. Will a matte finish best bring out your cabinetry's sheen? Or maybe a glossy finish will brighten up your space? Keep reading to learn which qualities to look for when choosing your countertop finish.
After all, no matter if you choose quartz, granite, solid surface, or laminate, the finish you choose not only influences how your countertop looks but also how it feels, resists stains, defends against nicks and scratches, reflects light, and much more.
Find A Countertop Finish That Will
Bring Out The Best Features Of The Stone
To choose a finish that will best suit your new countertops, you'll want to understand the two main characteristics of countertop finishes – matte and glossy. So let's start there and breakdown the various countertop finishes that range from high gloss to ultra-matte!
Matte VS Glossy
What you need to know to find the perfect finish to complete your new countertop.
So first things first, let's narrow down the various countertop finishes into two distinct categories – matte and glossy. (Although some finishes are a combination of the two!) You'll want to figure out which countertop finish will best suit your personal lifestyle, while at the same time, help you achieve the aesthetic you're going for. This means you first want to learn the finishes that are available for your countertop material and which of those finishes will help you realize your ideal space! Today, we'll go over which finishes are available for quartz and granite countertops.
Matte Finish For Quartz & Granite Countertops
What is a matte countertop finish?
If you choose a matte finish for your kitchen countertops, they will appear smooth, non-reflective, and have minimal to no shine. Matte countertops are k
nown by many names – typically honed or brushed when it comes to granite, and often concrete or leathered for quartz – but will always add a unique touch to a kitchen or bath design.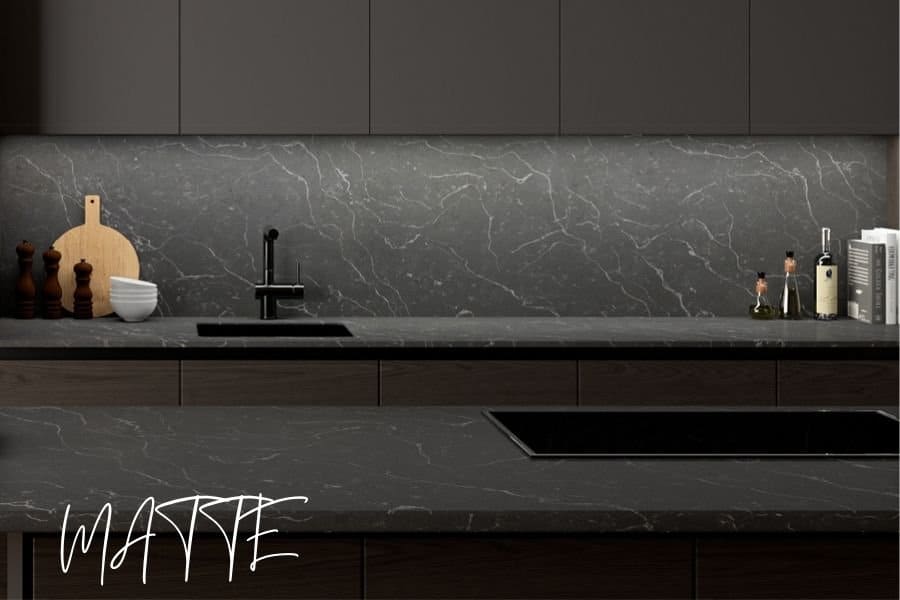 This type of finish may sometimes appear to be textured but is actually smooth, and is mainly recommended for use in the kitchen. A matte finish will prevent any unwanted glare from harsh lighting, as well as easily hide any nicks or scratches. It's easy to see why matte countertops are gaining popularity so fast and with their bold appearance, and we are definitely on board!
Matte Finish: Quartz & Granite Appearance & Availability
Not all countertop materials will be available in a matte finish. However, most natural stones like granite are available in honed finishes. A honed countertop appears very smooth and can have a buffed appearance that is similar to matte and a satin finish. So if you love the look of a matte countertop, but the finish isn't available for your favorite material, you can see if a honed finish is available instead. There are also brushed and leathered finishes that do feature a texturized surface and are growing in popularity as well. 
If quartz is more your style, a matte finish is possible for most quartz countertops. In fact, quartz countertops with a matte or leathered finish are gaining popularity fast in today's modern kitchen designs, with no signs of going out of style any time soon! 
In addition to the various matte finishes available for granite and quartz countertops, concrete countertops are another way to achieve a matte look in your kitchen!
If that doesn't work out, working with your countertop provider to help you customize your countertop finish is your best bet. 
Matte Countertops In Action
Glossy Finish For Quartz & Granite Countertops
What is a glossy countertop finish?
Glossy countertops are still the most popular choice for kitchen and bathroom countertop finishes. A glossy countertop finish will appear shiny, even mirror-like, and it will easily reflect light, adding brightness to any design. Polished countertops are very popular among residential properties for their durability, low maintenance, and affordability.
Otherwise known as polished, shiny, or mirror, you can't go wrong when you choose a glossy countertop finish. This finish will illuminate your kitchen and add a beautiful depth to your countertop material's pattern. However, polished finishes don't disguise smudges or fingerprints well, so they may require more thorough wipe downs.
Glossy Finish: Quartz & Granite Appearance & Availability
A glossy finish is considered the standard among providers and is available in virtually any countertop material. From granite and quartz to even marble and limestone, an elegant, polished finish is perfect for any design style. No matter what material, including laminate and solid surface, a glossy finish will amplify the light in your kitchen and open up the space creating the appearance of a larger room.
The amount of sheen you choose can vary and the appearance of a polished countertop will appear different depending on the material you select. However, quartz and granite countertops take especially well to a glossy finish. When you work with a countertop provider, you'll receive step-by-step guidance on selecting every aspect of your countertop from start to finish. Which in the end, will help you bring the vision you have for your home to life!
Glossy Countertops In Action
---
New countertops are an investment that can completely transform a space. Choose the perfect finish for your kitchen countertops that will enhance your interior's beauty, design functionality, and overall feel. When choosing a countertop, there are many decisions to be made, including the material, finish, edge profile, and more. That's where we come in! 
Ready to get started on your dream kitchen or bathroom today? Reach out to our team to get started with a free countertop consultation, or fill out our online form for a free quote today! And be sure to check out our kitchen and bathroom visualizer to see how the various countertop colors and finishes will look in your home!
For more styling tips and inspiration check out our Top 5 Granite Countertops For Waterfall Islands and our Black Quartz Countertops How To Styling Guide!
---
If you enjoyed reading these design tips, please share so that others may find us!
Also, comment below if you have any questions, comments, or requests for our next blog.