Michigan's Trusted Remodeling Specialists
Most Popular Countertop Materials
Quartz, Granite, Laminate, & Solid Surface
At MKD Kitchen and Bath, we've earned our reputation as Michigan's premier destination for kitchen and bathroom remodeling. We're more than just a provider; we're your partner in transforming spaces. With over 70 years in the business, we consistently deliver beautiful kitchens and baths, merging function with design.
To help you in your search for the perfect kitchen countertop, we'll break down each of the countertop materials we offer – quartz, granite, laminate, and solid surface. Whether you lean towards the sophistication of quartz, the timeless appeal of granite, or need an update that fits your budget, we have a match for your vision.
A blend of nature and innovation, quartz stands out for its resilience and sleek finish. Its stain and scratch resistance make it ideal for both look and longevity.
From understated whites to bold blacks, our quartz options are diverse, ensuring you find the tone that resonates with your design sensibilities.
Granite brings the charm of nature indoors. Each slab, with its unique pattern and hues, offers unmatched character. Renowned for its durability and heat resistance, granite remains a top choice across the country.
Our granite range includes a spectrum from cool blues to elegant golds, ensuring a fit for varied aesthetic preferences.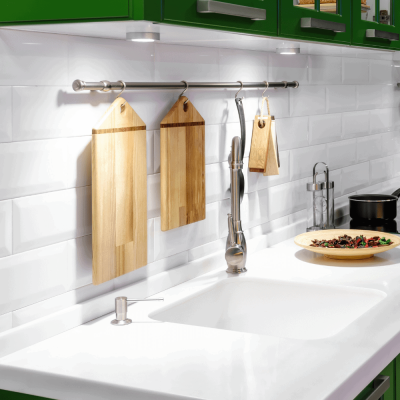 Laminate countertops have come a long way in design and durability. They provide an economical solution without compromising on aesthetics. With advanced printing techniques, laminates now masterfully replicate the look of natural stone, wood, and other materials on a budget.
Explore our assortment of laminate designs, from wood grains to stone-inspired patterns. No matter your design preference, you're likely to find a laminate that resonates with your vision.
Solid surface countertops offer a seamless look, ensuring a smooth and consistent finish. They are non-porous, making them resistant to stains and easy to maintain. Its adaptability in design, ranging from vibrant colors to patterns resembling natural stone, makes it versatile for various interiors.
Our collection encompasses a diverse color palette, from neutrals to more adventurous shades, fitting both contemporary and traditional design sensibilities.
Ready to get started? Let's go!
Choosing a countertop for your kitchen or bathroom is an exciting task, yet sometimes one that can be a bit overwhelming. So in order to help you select the right surface for your home, we'll escort you through every step of the countertop buying process. Through our online guides, interactive countertop visualizer, and downloadable infographics, you'll learn all the information you need to confidently select the perfect countertop material to complete your vision.
Discover the unique characteristics of each surface and learn which material is right for you.
Our countertop material guides have all the information you need to choose the perfect surface for your home. Start by getting an idea of what each material has to offer with our guide to the industry's four most popular materials – Granite, quartz, solid surface, and laminate.
Countertop Inspiration Gallery
Find inspiration for your next kitchen or bathroom remodel when you check out our countertop gallery.
Featuring our favorite projects and installations, real kitchens and bathrooms, and beautiful countertops in every material, we're confident you'll find just the thing to spark your creativity.
Best-Sellers & New Colors
Narrow down your selection even further by taking a look at some of the industry's best-selling colors, designs, and patterns.
From quartz and granite to laminate and solid surface, discover if one of the latest "fan-favorites" countertops could be your perfect fit.
Countertop Calculator Tool
Every project needs a budget. Get started calculating your project's budget and see how it breaks down across categories in our example.
While no two projects are the same our calculator allows you to create the framework of a budget for your project.
That said, there are many variables that must be considered, so please contact a design professional to discuss your project.
A countertop's finish and edge profile make all the difference when it comes to kitchen and bath design.
Learn about the various combinations and see which will bring out the best in your preferred material.
There's no need to break the bank when remodeling!
Check out our selection of countertop materials on sale now for up to 25 % off.
We're always looking for new ways to provide guidance to homeowners interested in remodeling.
Our various guides cover everything you'll need in the countertop department, check them out today!
Learn How To Measure Countertops For Replacement
Countertop Style & Design
Countertops have the ability to transform any space and provide new life to your home. From quartz and granite to solid surface and laminate, the countertop materials we carry come in a variety of color options and designs. The diverse array of countertops allow you to complete your perfect design of any kitchen, bathroom, or home remodeling project. Whether you prefer the streamlined design of Silestone's quartz countertop colors or enjoy the more intricate detailing found in natural stone/ granite, we can assure you you'll find a surface material to accommodate your tastes. Start your search now by checking out some of our top-selling countertop colors below!
Learn More About Our Financing Offers
We proudly offer the following brands
Dwyer Marble and Stone Supply is one of the country's leading wholesale commercial and residential distributors of granite and stone products.
M S International is the leading importer and distributor of countertops in North America. MSI premium surface granite selection offers over 250 color patterns.
HI-MACS Delivers an innovative solution that does not put a stop to your creativity or needs. Because when you're inspired, you're unstoppable.
Viatera® Quartz Surface is more than a simple countertop. It's where life's moments happen. In a wide array of colors and styles, it truly reflects the beauty and wonder of your life…
Corian® works with designers, artists, architects, and industry sector experts to offer the largest, most versatile selection of colors available in contemporary surfacing.
Silestone is a combination of natural quartz and other raw materials that are extraordinarily hard and resilient. These characteristics combine to create an ideal surface.

Formica® Brand Laminate offers a broader range of looks than ever before. Transform spaces with our modern laminates that are as beautiful as they are durable.
Wilsonart has a flattering collection of décors with performance standards matched to our commercial line designed to suit any homeowner's style.
Contact us today to learn more about the wide variety of countertops we offer at MKD.
MKD Kitchen and Bath has been providing kitchen and bath solutions for over 72 years. At MKD, we serve both builders and dealers, as well as residential customers. We are proud to service Michigan, Northern Ohio, and Northern Indiana customers as one of the largest full-service countertop companies in the Midwest.
Please reach out to us today to learn more about how we can help you with your countertop needs.