Quartz countertops are man-made engineered stone countertops produced with a combination of natural quartz and other fillers – resins, polymers, and pigments. Quartz material is one of the hardest surfaces on earth, which is why it is such a popular surface material for countertops.
If you're looking for the perfect combination of customizability and natural beauty, quartz may be the countertop material for you. These countertops offer unique design possibilities because they come in many colors and textures.
Benefits of Quartz Countertops
Quartz: Contemporary Elegance with a Natural Feel
We love engineered quartz for its dynamic, luxurious practicality. It's the material that gives you everything you need. Here are a few more reasons why quartz is at the top of our list.
Offering the same durability as granite and concrete, quartz has the advantage because it doesn't crack or chip as easily. Warm, smooth, and seamless, quartz lets you choose among many colors and offers a luxurious appearance you just can't get with other materials.
Quartz Countertops Style & Design
Quartz countertops come in a variety of color options and patterns to complete the design of any kitchen, bathroom, or home remodel project. From crisp and clean white to stones with intricate detailing, there is a quartz surface material to accommodate a wide range of style choices. It's no surprise that this surface material is our best seller – See our top-selling quartz countertop colors below!
Quartz Countertops Design For You
One of the main reasons quartz countertops are our best-selling surface materials is the fact that they require very little and simple care and maintenance. To get the most out of these antibacterial surfaces we recommend the following care instructions.
Daily Cleaning for Quartz Countertops
Although quartz will resist permanent staining when exposed to liquids like wine, vinegar, coffee, lemon juice, soda, and so on, it's important to wipe up spills immediately, before they have a chance to dry.
Quartz surfaces should be wiped clean with a damp soft cloth, such as a microfiber cloth or paper towel. Carefully dry the surface to remove any food residue, crumbs, or other soils. For best results, we recommend wiping any liquids from your quartz surface immediately to prevent damage.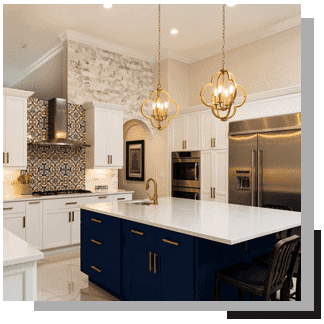 Disinfecting Quartz Countertops
You can create a disinfectant solution with an 8:1 ratio of clean water and rubbing alcohol. To do so, you will combine 1/4 cup of rubbing alcohol and two cups of water in a spray bottle. We recommend adding 1-2 drops of an essential oil of your choice – lemon, lavender, etc. to give you a smell-good clean! When using the solution make sure an even layer is sprayed on the surface – the mixture will need to sit for 2-3 minutes to be most effective.

Caring for Stains and Spills
You should always refer to the manufacture's guidelines for the specific product of quartz you own, however, here are a few tips we can offer:
Use a mild soap and clean warm or cool water to wipe clean the area with a soft cloth. After washing the area with soap make sure to rinse clean with cool water and dry thoroughly.
For tough stains like cooking grease, nail polish, gum, and more, cleaners like window cleaner, Formula 409, and other common household cleaners may be used. Simply spray the area down and let the product sit for 2 minutes then scrub with a non-scratch pad (e.g. Scotch-Brite)
While we fabricate and install a variety of quartz brands from LG Viatera,® Cesarstone, MSI Quartz, and more, we recommend this care and maintenance guide from Silestone®.
Quartz Frequently Asked Questions