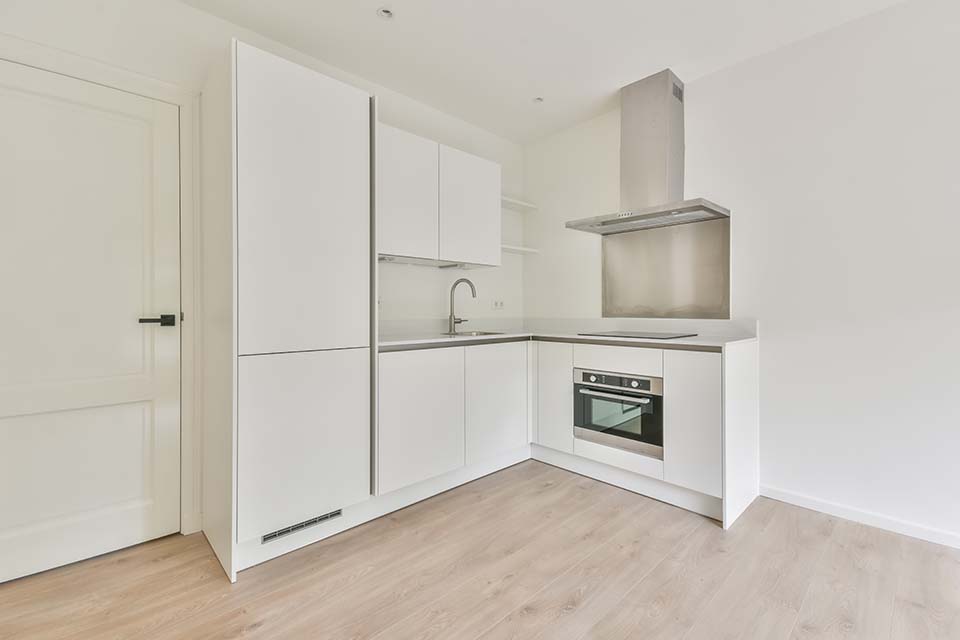 No matter your style, we're confident in finding the perfect materials to fit your vision and your budget. It is our goal to help you find the perfect cabinet system that will revolutionize your kitchen.
Cabinets are the framework of any kitchen or bathroom design, and no one knows this better than MKD: We've offered homeowners stunning custom cabinetry services for over 72 years. We provide thousands of styles, colors, and stains to choose from, ensuring our customers find the right materials to create their custom look.
Creating your dream home involves many steps, and at MKD, we have your back through all of them. Cabinets are an essential design element to creating the home of your dreams, and with our cabinet offerings, we're confident in delivering just that.
We offer the most extensive selection of customizable options that are certain to provide the ideal material, finish, hardware, and door style to fit each unique vision. Our primary goal is to anticipate and exceed our customers' needs throughout the entire cabinetry process. By doing so, we create a streamlined process that effectively delivers the cabinets you have envisioned.
When it comes to selecting your cabinets, our designers will guide you through the different cabinet materials, finishing options, door styles, hardware choices, and more to help you find the perfect material to achieve your kitchen remodeling goals. Each of the cabinet lines we offer will help you achieve stunning results, customized to help enhance the appeal and increase the functionality of your home.
Choosing the perfect cabinets for you depends on personal preference, budget, and the overall aesthetic you wish to create. One of our designers will work with you to sort through these variables and discover the best cabinets for your lifestyle. You can feel confident that through our personalized process we will help you select the ideal cabinetry system to fit your needs.
The final results of your cabinetry will leave you with seamless results, tailored to your storage goals and desired aesthetic. MKD customers can expect to be thrilled with the new look and functionality of their kitchen or bathroom – Made possible by our custom cabinet solutions.
What Does Your Custom Cabinetry Solution Include?
With our custom cabinetry solution customers have their choice of material, finish, door style, hardware, and more!
Your designer will advise you on everything and guide you through our selection of cabinet materials, which includes everything from natural woods like Cherry, Maple, and Oak to manufactured materials like Melamine, Duraform, and Thermofoil. We offer a diverse selection of finishes, from paint colors and stains, to exotic veneers and glazes, to create your ideal look. Our cabinet door styles feature the latest trends in cabinetry, such as flat panel, slab, and inset to ensure your home is as up-to-date as possible for years to come.
The finishing touches are our specialty and with a multitude of hardware styles to choose from your cabinets will have a truly unique look down to the very last detail. Whether you prefer pulls or knobs, we'll find and provide what you're looking for. From contemporary and eclectic to traditional and transitional, we offer a selection in every style.
Our large catalog of all cabinetry products holds a world of possibilities to be created. Our product selection is guaranteed to provide what you need to create the look you're going for, while staying within your budget. With one of our talented designers working as your trusted adviser, we'll help you discover the best cabinets for your lifestyle and construct personalized solutions to fit your needs.
Whichever room your new cabinets are installed in – Kitchen, bath, home office, closet, or anywhere you prefer – MKD customers can expect 100% satisfaction. Your new cabinet system will be tailored to your specifications: from shelves, drawers, and hardware to space saving solutions and special compartments, you will instantly love the functionality and beauty it provides. Learn more about our cabinetry offering by stopping by any of our showroom locations or give us a call today! We can't wait to get started.
Learn More At Any Of Our Showroom Locations
MKD's Custom Cabinet Journey
MKD offers the most effective cabinet solutions on the market to ensure each customers' vision can be made a reality. From the first consultation to the delivery of your new cabinetry, our team's focus is on creating the home of your dreams.
The path to custom cabinetry is unique to each individual, but our process stays the same. For an idea of what to expect when starting your cabinet journey, we've gone over the main points of each step:
Schedule a free consultation to sit down with one of our talented designers and go over all the cabinetry basics.
At the consultation, you will discuss your cabinetry style preferences, design goals, and budget.
Develop your ideal cabinet layout and let us know any specific cabinet solutions you have in mind.
Our professional team will take measurements of the project site and create your project road-map.
Through collaboration with your designer, we will help you customize your cabinets to create your ideal look.
During the design process, you will discover the right material, finish, hardware, door style, and more for your dream kitchen.
Our team will work with the vendors to coordinate the delivery of your new cabinetry at a date and time that works best for you.
Our design staff is happy to recommend general contractors to help complete the install of your new cabinetry!
Stock, Semi-Custom, and Custom Options
Reach out today to get started on your own custom cabinets!
"*" indicates required fields