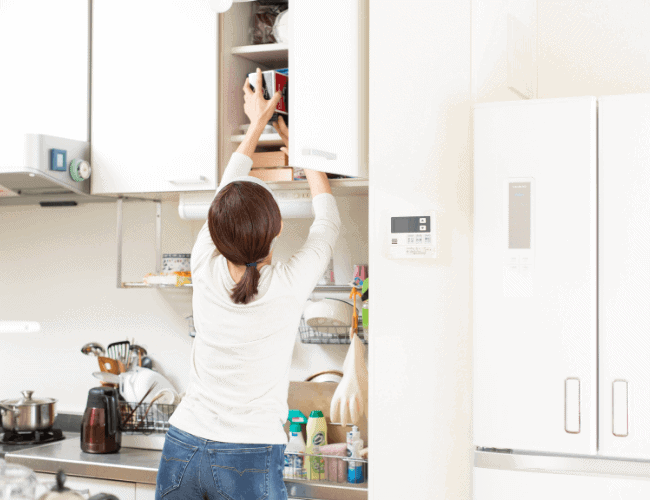 Genius Kitchen Cabinet Storage Ideas
You Need To Try Right Now
No matter if you're an organization queen or have no idea where to start – These kitchen cabinet storage ideas are perfect for making the most of your current kitchen cabinets or to add on to a cabinet refacing makeover!

1. Use Drawer Dividers
Nearly every homeowner uses a drawer divider for their kitchen silverware drawer, but they can be used for so much more! Drawer dividers are an absolute must when keeping your kitchen organized and are one of our favorite kitchen cabinet storage solutions. They help keep all your kitchen utensils, tools, and other items in place while providing easy access for you to find what you're looking for fast.
2. Add Toe-Kick Drawers
Toe-kick drawers offer the perfect place to store heavy pots and pans, lesser-used items, and flat-lying items. These hidden drawers are an excellent solution for those who lack physical kitchen cabinet storage. Because they can typically be installed in any cabinet system, toe-kick drawers are convenient, functional, and extremely affordable.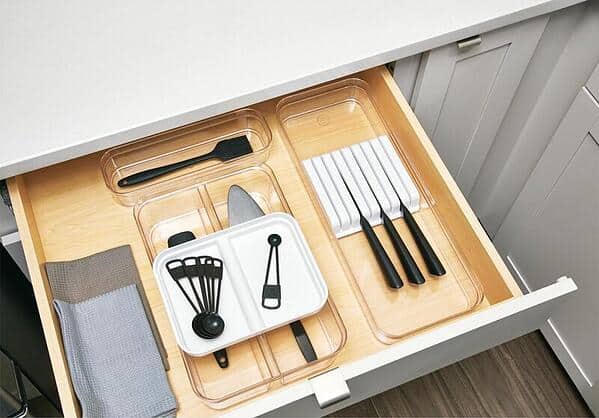 3. Spice Storage
Ensure every spice is easily accessible when needed and tucked out of the way when not with a spice storage divider. These drawer dividers are specifically dedicated to organizing spices in cabinet drawers and will put you at ease by providing a place for you to store each and every spice.
4. Deep Drawer Organizer
When your drawers are deeper than an inch or two it's a great idea to add deep drawer organizers to keep everything in its place. Deep drawer organizers are great for organizing items like bread and other bakery items, as well as cookware, cooking utensils, and other frequently used items.
5. Peg Drawer Organizer
Organize your dishes with a peg drawer organizer to keep plates, bowls, and other delicate items securely stored. Peg organizers are one of the most innovative cabinet drawer storage solutions. They allow you to have easy access to your most-used dining items and avoid any damage that can occur from sliding around the drawer.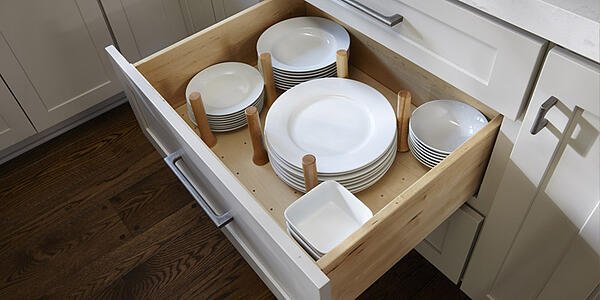 1. Utilize Shelf Risers
Shelf risers are an excellent way to add surface area to your cabinet shelves. This convenient storage solution lets you double your storage space and keep things organized. Shelf risers are perfect for holding small appliances, dishes, mugs, cans, spice, and more. They're also one of the most affordable ways to increase your kitchen's storage space!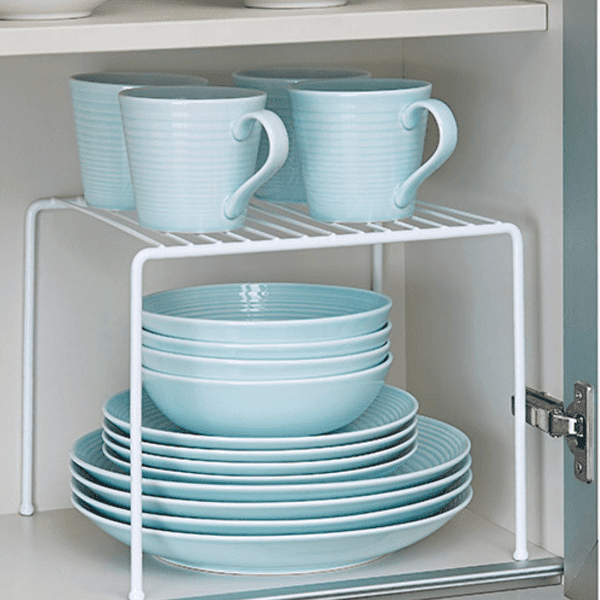 2. Use Turntables
Turntables are a convenient and functional solution for making the most of a cluttered cabinet and are an amazing way to optimize storage space. You can use turntables behind closed cabinet doors for spice storage, condiment organization, and more to ensure all your cooking necessities are easily accessible.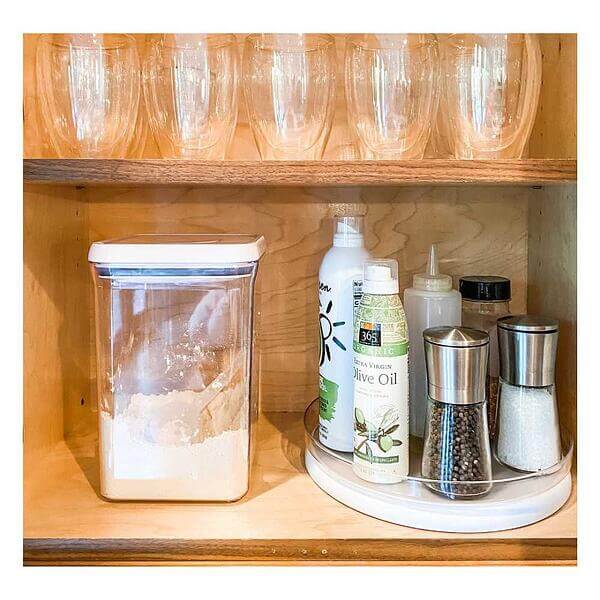 3. Add Drawers To Your Cabinets
Adding drawers to cabinets is one of the oldest tricks in the book when it comes to kitchen storage solutions. After all, a lot of cabinet shelves are a necessity, but drawers offer another level of convenience.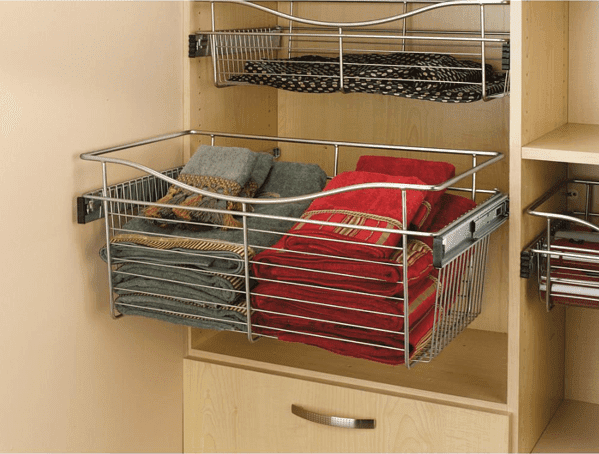 4. Lazy Susan
Lazy Susans are an excellent way to optimize your cabinet space and organize your kitchen goods, pantry items, pots and pans, or any other kitchen necessity. This classic, yet convenient storage solution offers homeowners a way to best utilize corner cabinets and create an accessible place to store kitchen items.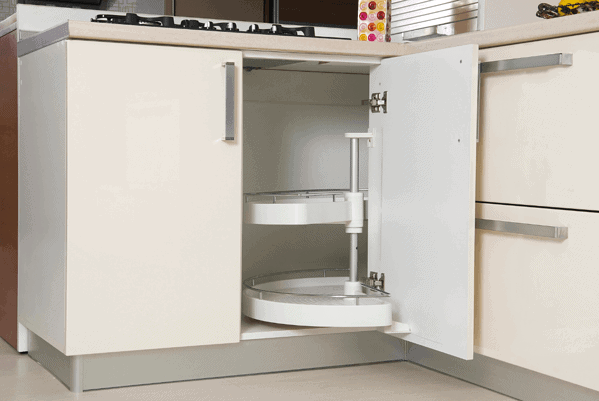 5. Keep Things Contained
Containers are a lifesaver when it comes to organizing your kitchen cabinet shelves. Specifically, clear containers. We love using clear, plastic containers for organizing rice, cereals, pasta, and other pantry items. This little trick not only keeps your food fresh but also helps minimize cardboard containers since you'll be combining items into one container. Containers are perfect for the kitchen because they're cheap to buy and organizing with them is a breeze!
1. Store Baking Sheets Upright
Keep your baking sheets, cutting boards, and other flat-lying items stored upright to maximize space and efficiency. Cabinet dividers are one of the best organizing solutions for your kitchen and can be easily installed with your cabinet system. They offer easy access to your cooking necessities and can even be installed during cabinet refacing!
2. Create A Shelf With A Tension Rod
Create a shelf inside of kitchen cabinets with a tension rod to add storage. This little-known trick is perfect for storing spices, canned goods, and other pantry items. As well as hanging cooking utensils or dish rags. Tension rods are an excellent way to make use of otherwise wasted space and treat yourself to a makeshift shelf!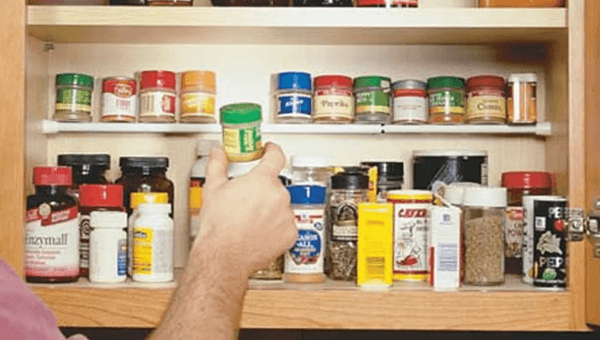 3. Stick On Shelves
Stick on shelves are as convenient as they are affordable and are perfect for the inside of your cabinet doors. We love stick on shelving for storing sponges, cleaning supplies, and other necessary items under your kitchen sink. As well as spices, canned goods, and other pantry items. You can also use them as a catch-all shelf for kitchen clutter, coupons, and so much more! We love stick-on shelves because of how flexible and versatile they are.
4. Cutting Board Door Mount
Conveniently store your cutting boards on the inside of your cabinet doors by installing a cabinet door mount. A cabinet door mount is perfect for keeping your cutting boards out of the way, while simultaneously giving you easy access to your items. This is an excellent kitchen storage solution because it can be done on your own for a relatively low cost!
5.  Cabinet Door Knife Rack
Keep your knives out of reach and safely stored away with a cabinet door knife rack. This solution is perfect for homeowners with children and is a great way to keep your blades organized. Safely storing your knives on the inside of your cabinet door will ensure you have easy access to them when needed and will also prevent your knives from becoming dull. We love this organization tip because of how affordable and easy it is to implement.
What Next?
We hope you found these kitchen cabinet storage ideas useful and can implement some of them in your own kitchen!
Once you've organized your kitchen with these genius kitchen cabinet storage ideas and organization tips, check out our tips on how to create your ideal design style. We break down the most popular kitchen design styles and how you can create them for yourself here. Or for more on kitchen remodeling tips and design ideas check out our Ultimate Guide To Designing Your Perfect Kitchen!
Want More?
Prepare yourself for the remodeling journey with our best tips for creating a kitchen remodeling budget AND the five steps to take before you begin your remodel. Check them out to set yourself up for a successful kitchen remodel!
5 Steps To Take Before You Begin Your Remodel
5 Kitchen Remodeling Budget Tips
Want More Design Help?
Our designers are ready to make your dream home a reality.
When you're ready to make your kitchen dreams come true, The Kitchen Shop will be there for you every step of the way to bring the vision for your kitchen to life. We offer custom design services that are created specifically with your vision in mind to ensure your kitchen design results in exactly what you were looking for. We would love to help you on your kitchen remodeling journey, contact us today to get started!
---
When it comes to kitchen design, The Kitchen Shop has become one of West Michigan's premier remodeling centers and is here to help you! We have everything you need to create your dream kitchen, from cabinets and countertops to plumbing fixtures, appliances, and hardware, The Kitchen Shop is truly a one-stop-shop for all your remodeling needs. Our team offers over 300 years of combined experience in kitchen design and a master skillset to ensure the vision you have for your kitchen is brought to life.
Connect with us today for more information and get if you're ready to start your kitchen remodeling journey schedule an appointment with one of our talented design consultants.
The Kitchen Shop is West Michigan's premier kitchen and bath design and remodeling center with locations in Lansing, Battle Creek, and Kalamazoo.
[smg_contentform name="blog-form"]