One of the most popular and trending home design aesthetics, or themes, is the modern farmhouse look. This look incorporates modern and simplistic elements with a more lived in feel that is the perfect balance between warm, inviting, and sophisticated. It's not only elegant and pleasing to look at, but it also is extremely functional, which is why it has become so increasingly popular.
If you're on the search to find inspiration for turning your kitchen into a modern farmhouse dream, then you've come to the right place! Our designers specialize in developing gorgeous contemporary farmhouse kitchens and have created numerous stunning designs for our clients.
We've put together our 5 best designer approved tips on how to design a modern farmhouse kitchen that will be a beloved space in your home for years to come. We go over all the major kitchen design elements and explain exactly how to use them to create a modern farmhouse look.
5 Tips For Designing A Modern Farmhouse Kitchen:
Keep reading to learn more!
When it comes to creating a modern farmhouse kitchen, countertops are one of the most impactful design elements. Choosing the right countertop can solidify your farmhouse feel, from granite, quartz, and stone to composite material and laminate, there are so many options to choose from when it comes to your kitchen design. Granite and quartz materials stand out above other countertop options but, if you're looking for a more budget friendly choice, selecting a pattern or design in a different material, like solid surface or laminate, can give your kitchen a similar look.
No matter what material you choose, for a modern farmhouse look, white or cream countertops are by far the most popular. Typically because lighter countertops have a more modern aesthetic and are used to help boost that luxurious look, hence the name modern farmhouse. However, black quartz is another very popular choice for designing a contemporary kitchen and when paired with lighter cabinets is a beautiful choice for a modern farmhouse style design.
After designing numerous modern farmhouse kitchens, we've come to have a few favorite countertop materials that provide the perfect look and feel to the design.
You can't go wrong with any of these quartz and granite materials:
Popular Modern Farmhouse Style Quartz Countertops
From left to right: Calacatta Arno, Carrara Iris, Arctic White, Calacatta Botanica
Popular Modern Farmhouse Style Granite Countertops
From left to right: Clarino, Andino White, Cameo Shore, Bianco Antico
Modern farmhouse designs typically use neutral color tones. White or light wood-treated cabinets are a very popular choice, but you can still use a more vibrant color if that is more your style. Neutral colored steel blues, grays, and navys, are another great way to utilize darker tones but still give your space a pop of color. A neutral or olive green is another color that can be used as well.
As far as cabinet door style, opting for a cabinet design that is simple and minimalistic is best. Shaker cabinets are perfect for a modern farmhouse kitchen, they offer a classic yet contemporary look and when decorated with crown molding create an inviting environment. These gorgeous modern farmhouse style kitchens feature white and cream cabinetry and stunning crown molding. We love how even though they are such different designs they still showcase the modern farmhouse aesthetic beautifully!
To help boost the look of your kitchen, use metal fixtures to complement the existing hardware in your room. Black, copper, bronze, and gold metal adornments offer an easy way to blend and coordinate the space while also seamlessly blending into any existing appliances or decorations. One tip is to select a metal material that fits with both your tile backsplash and your countertops. We also recommend that you match your lighting fixtures and use a maximum of two metal tones to help keep it seamless.
These stunning kitchen designs make perfect use of metal fixtures to create a beautiful farmhouse style look. The first design features matching gold cabinet hardware, faucet, and pendant light fixtures, giving the kitchen modern flair. While the second design showcases matte black cabinet hardware and light fixtures that pair beautifully with the subway tile backsplash. You can't go wrong with metal fixtures when designing a modern farmhouse kitchen, the trick is to choose the right metal for you and coordinate the same metal throughout the design.
4. Open Windows
When you hear the term farmhouse, you often picture an open space with plenty of windows that look out over the beautiful countryside. Depending on where you're living, you may not have the same view, but a space with lots of windows and natural light can help create that farmhouse look. If you're designing or remodeling your kitchen into a modern farmhouse, think about where your kitchen is placed. How the natural light is going to come in and what you want your view to look like is especially important in solidifying the trendy farmhouse design.
Our designers did a great job utilizing windows and natural lighting with these kitchen remodels. The best part is, even though the first kitchen shows much larger windows and lets in more natural light than the second kitchen, they both are clearly well lit making the farmhouse aesthetic truly shine.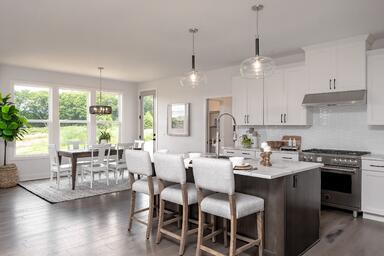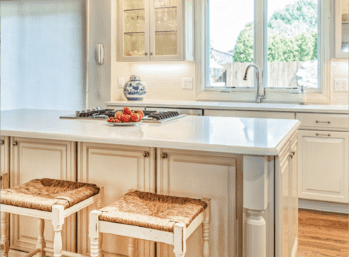 5. Decor
Once you've designed your kitchen to your liking, you also want to think about how you are going to decorate your home. Keep your decor light, farmhouse style kitchens don't need much to stand out! Select a few statement pieces to display and opt for functional decor items like a large clock, hanging pot rack, or canvas art piece. You can also use kitchen items like mugs, decorative plates, and plants to be used as decor. Jars or spice racks are perfect decorations for a farmhouse style kitchen and give your home that lived in feel that we love!
In this gorgeous, modern farmhouse kitchen remodel our designer decided on a hanging pot rack above the kitchen island as the centerpiece to the design. Keeping it simple with a fruit bowl, bright blue tea kettle, and small plant next to the sink completes the fresh farmhouse look. Whether you love making a statement with your decor or perf simpler pieces, there's no wrong way to decorate a farmhouse kitchen and the possibilities are virtually endless.
Create your perfect farmhouse kitchen with The Kitchen Shop.
We're here to help make your kitchen remodel as stress free as possible.
We have everything you need from cabinets, countertops, plumbing fixtures, appliances, and hardware. With over 30 years in the business and tons of experience working with all styles of design and countless remodels, we've specifically mastered the modern farmhouse look.
When you're ready to make your modern farmhouse kitchen dreams come true, we'll be there for you every step of the way and help you bring your vision to life.
---
Connect with us today for more information and get if you're ready to start your kitchen remodeling journey schedule an appointment with one of our talented design consultants.
The Kitchen Shop is a West Michigan's premier kitchen and bath design and remodeling center with locations in Lansing, Battle Creek, and Kalamazoo.