Designing the perfect kitchen is one of the most exciting remodeling projects a homeowner can take on. It allows you to be creative, implement practical solutions, and make use of all the Pinterest boards you've curated over the years. But, when it comes down to actually designing your kitchen, it can get a little overwhelming if you don't know what you're doing.
No matter what your home remodeling experience may be, we're here to help by sharing our step-by-step process to designing your dream kitchen.
Kitchen Design: The Ultimate Step-By-Step Guide To Designing Your Perfect Kitchen
How To Design A Kitchen In 11 Steps:
1. Assess
2. Outline
3. Layout
4. Research
5. Plan
6. Brainstorm
7. Coordinate
8. Select
9. Choose
10. Light
11. Complete
In this Ultimate Guide To Designing Your Perfect Kitchen we'll cover all that's involved in kitchen design and give you a step-by-step plan for designing your kitchen from the beginning of your kitchen remodel to the end. Feel free to skip around and familiarize yourself with the steps before diving in!
Whether you're building a home from scratch and looking to design your kitchen from a completely blank slate, or your current home's kitchen is in need of a major makeover, this guide is all you need to design your perfect kitchen.
Get ready to create your dream kitchen in just 11 steps!
The kitchen is the most used room in any home, it's where your family gathers, memories are made, and entertainment commences. Not only should your kitchen be a welcoming and functional space, but it should also be a reflection of your personal style.
To properly plan your kitchen design is the key to creating a design that meets your highest expectations. Whether you plan on completing your kitchen remodel on your own or with the help of an expert team, these 11 steps will set you up for optimal success.
1. Assess
List elements you want in your kitchen.
Assessing your current kitchen is the first step in to any kitchen design. You'll want to figure out what you love about your kitchen and what you wish you could add, change, or modify to make better. This process should help you discover your "must-have" design elements, as well as what you can do without.
For instance, you may find it essential to install a pot-filler above your stove to make boiling water easier and cooking more efficient. Or you may desire a breakfast nook that's separate from your dining area. We also have an entire article on gorgeous kitchen bar designs you may want to check out!
Whatever your essential kitchen elements are, make a list of them, and figure out which ones are the most important to you. Don't forget to add the most basic items you need like appliances, countertops, cabinets, and flooring.
To help you figure out what elements you may want in your kitchen, we've listed various common features here:
Kitchen Island
Breakfast bar
Appliances
Kitchen sink
Faucet
Dining area
Pantry storage
Ceiling
Doors

Walk-In Pantry
Wine Fridge
Wet Bar
Cabinetry system
Appliances
Range hood
Water filter
Dish Rack Storage
Surround sound system

Cabinet Style
Cabinet Finish
Cabinet Hardware
Flooring
Countertops
Backsplash
Office Area
Computer Desk
TV

Lighting
Electrical
Windows
Skylights
Wall Coverings
Recycling
Hand towel bar
Bench Seating & Storage
2. Outline
Create a detailed kitchen floor and wall plan.
Once you've decided on what you want your kitchen to have, you'll want to determine an outline of how your kitchen will look. It may come as a surprise to some, but your kitchen floor plan is different than your kitchen layout. In fact, we consider your floor and wall plan the "outline" of your kitchen.
To create your kitchen outline, you want to have a good understanding of your floor plan. You can work with a kitchen design company to 3-D render your outline, or do it yourself on graph paper.
The important thing is to make your outline to scale. Your kitchen outline will be an exact depiction of your existing kitchen floor, walls, windows, and doors.
From here, if you plan to make any structural changes, you can make a copy of your outline and begin planning things like removing a wall or adding a kitchen island. Doing so based off your existing outline will give you an idea of how much space you have to work with and place these elements.
Continuing from your original outline or your planned kitchen outline, begin planning cabinetry and appliances, make sure to use a pencil to mark up your floor plan with where you wish to place these elements.
3. Layout
Decide on the best layout for your kitchen design.
Once you are satisfied with your outline you'll want to determine which floor plan will work best for you. Whether you plan to keep the layout of your kitchen the same, or undergo major structural changes, deciding on a layout is a crucial step in designing your kitchen.
There are six major types of layouts that are most popular in today's kitchen designs. You'll want to determine which one will best suit you and your needs.
The 6 layouts we recommend are as follows:
1. U-Shaped Kitchen Layout
2. G-Shaped Kitchen Layout
3. L-Shaped Kitchen Layout
4. Galley Kitchen Layout
5. Island Kitchen Layout
6. Peninsula Kitchen Layout
For now, let's get into the six most popular kitchen layouts! And for a detailed description of each layout, plus, how to make it work in your kitchen, check out our ultimate guide to the Most Popular Kitchen Layouts.

A u-shaped kitchen layout is popular for offering ample space for cabinetry. The U-shaped layout works best for larger kitchens, as it features three distinct walls. This kitchen layout creates a functional and efficient space that has plenty of room for an effective "work triangle."

Similar to a U-shaped layout, a G-shaped kitchen layout offers an equal amount of countertop space, storage, and three walls. The difference in this layout, however, is that G-shaped kitchens feature a partial fourth wall or peninsula.  G-shaped layouts work well in large kitchens and are a great choice for homeowners who wish to have additional seating at a countertop or added cabinets on a partial wall.

The L-shaped kitchen layout is very popular due to its flexibility and efficiency. It can be adapted to nearly any space and creates a practical and functional kitchen design. An L-shaped layout is excellent for smaller kitchens, as it can be fitted to a 10X10 space. It is also very ergonomic and makes for an efficient kitchen work triangle.


A galley kitchen layout is a common choice for traditional kitchen design and is ideal for small spaces. It is often seen in older homes, and is made up of two parallel walls or countertops with walking space in between. The galley style layout offers less fluidity than the other layouts, however allows for easy movement from the oven to fridge. As a galley layout typically places the sink and fridge on one side and the oven on the other.


An island layout is designed purely on personal preference, and can be incorporated with any layout option. The island kitchen layout is perfect for larger spaces, as it requires at least 36″ of space to surround the island on four sides, to allow space for homeowners to walk through and appliances to open and close. For an efficient workflow, your kitchen island will be centered within stepping distance of the stove, sink, and fridge.

A peninsula kitchen layout is similar to that of an island kitchen layout. The layout typically involves turning a U-shaped layout into a G-shaped layout or an L-shaped layout into a U-shaped layout. A peninsula kitchen layout is perfect for those who wish to have a kitchen island, but do not have the space required. For a peninsula offers similar function to an island and allows for additional seating, storage space, and countertop surface area.
4. Research
Research appliances and fixtures.
Now that you have a list of all the elements you'd like in your kitchen design, outlined your kitchen, and chosen a kitchen layout, you'll want to start getting specific.
Begin researching the sizes you prefer for appliances, brands you like, and types of fixtures you prefer. Keep in mind, this is just preliminary research and you'll want to focus on size, brand, type, etc. Finish, color, and style come later when we get into more on choosing the right materials for your design.
We recommend researching all of the following kitchen design aspects:
| | | |
| --- | --- | --- |
| Appliances & Fixtures: | Brand, Size, & Style |   |
| Appliances: | Plumbing Fixtures: | Additional Fixtures: |
| Oven | Faucet | Lighting |
| Refrigerator | Sink | Hardware |
| Microwave | | |
| Stove | | |
| Dishwasher | | |
| Range Hood | | |
| Garbage Disposal | | |
Make sure to use the outline you created in step two to select the correct sizing for your appliances and other fixtures. You can also begin to create your budget based off of the pricing of the products you choose.  If you need help calculating what your budget should be, check out our budget calculator.
5. Plan
Plan storage solutions.
Now that you've selected the products you prefer, properly laid out your kitchen, and done your research on crucial kitchen elements, you can begin planning your storage solutions. To being, start with making a list of where your kitchen is lacking in storage, as well as what you currently keep stored throughout your kitchen. Your list should include non-refrigerator food items, storable appliances, cooking equipment/utensils, and anything you keep atop your counters. For a detailed list of the typical kitchen items stored check out this kitchen storage list.
From your list, you can start planning where you will store these items. There are many creative storage solutions that may work, and we'll go over some of our favorites below for cabinet storage, drawer storage, bench storage, and other ideal storage solutions.
Cabinet Storage:
As far as cabinets go, there are many solutions to create function storage in your kitchen. From pull out drawers behind your cabinet doors to a lazy Susans and corner pull outs, you can find the perfect place for all your kitchen items.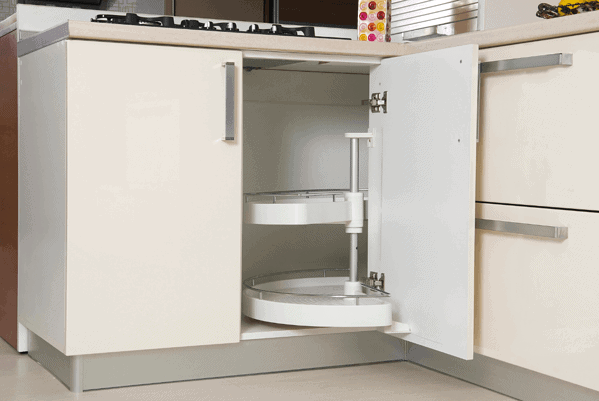 Lazy Susans are a well-known and popular storage secret that allow you to make the most use of your corner cabinets. The revolving in-cabinet shelving is perfect for storing snacks, small appliances, or any additional items you want to keep off your countertops.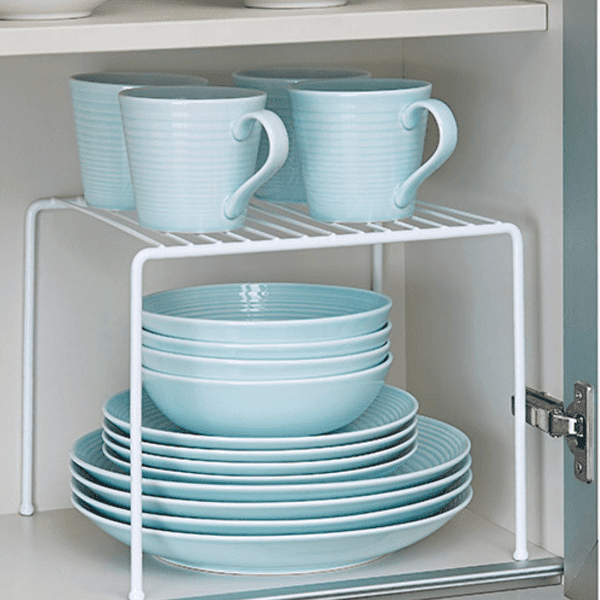 Two Story Shelves are one of our favorite storage tips to add storage to your cabinets. You can use wire shelf risers on top of your cabinets built in shelving to create a second layer of usable storage space. Or have two story shelves installed with your new cabinet system.

A Skinny Spice Rack is another excellent way to make use of the small spaces between cabinets, appliances, etc. Adding a skinny pull out organizer to store spices, canned, goods, cookbooks, and more in these overlooked places is a great way to make use of the otherwise unused space.
Drawer & Bench Storage:
Drawers offer many opportunities to create creative storage solutions. Kitchen drawer dividers are an excellent way to compartmentalize items, as well as double drawers which offer a drawer within a drawer.

Drawers Inside Cabinets is another great way to utilize the space behind your cupboard doors. You can find creative ways to separate all of your kitchen items in tucked away drawers that are out of sight. You can separate utensils, tools, towels, and other supplies into baskets or drawers to optimize storage in deep cabines.

Bench Storage is perfect for the kitchen and can be easily implemented if you choose to add a breakfast nook. The stylish trend allows for crucial storage space beneath the bench seating and offers plenty of space for all your extra kitchen essentials. Try storing lesser used items underneath such as, seasonal platters, plastic utensils, outdoor cushions, and more
Additional Storage:
No two kitchens will have the exact same storage solutions, be creative and find what will work for you and your lifestyle! These additional storage solutions are great for organizing pans, towels, or left over clutter throughout the kitchen.

Storing Pans Sideways is a great trick for keeping pots and pans organized and accessible. Stacking pot lids and pans sideways ensures easy access, clean up, and storage for your precious cookware. Plus, no more noisy rummaging through a mess to find what you need.


A Coat Rack is a stylish and practical kitchen storage solution that offers many storage possibilities. Stylish and practical, a coat rack in the kitchen has multiple possibilities, from hanging aprons, towels and potholders, to even pots and pans
6. Brainstorm
Gather kitchen design ideas.
Now that you've determined the main features you need in your kitchen, as well as how you will layout and organize your space for optimal function, we can start brainstorming the overall look of your kitchen design.
To brainstorm interior styling ideas, we'll walk you through six of the most popular kitchen design styles to help you see how you'd like to style your space. For an even more in-depth breakdown, check out our guide to the Top 3 Kitchen Design Styles where we go over each style in great detail. Whether your style is modern and contemporary or classic and traditional, these ideas will inspire you to create a space that suits you perfectly. And if you're looking for more ideas, check out our full breakdown of the latest Top Trends In Kitchen Design!
First off, ask yourself a few questions. Are you going to complement the style of your kitchen with the style of the rest of your home? Or contrast your kitchen decor to stand out? What colors and textures would you like to showcase in your kitchen? Do you prefer lots of color or more muted tones? These questions and more should all be considered when you're brainstorming kitchen ideas.
Now let's get into some kitchen design ideas! We'll show you some examples of the most popular kitchen design styles to help you choose a design theme that suits your style perfectly. Also don't worry if you don't see "Modern Farmhouse" on this list, we have an entire article that goes over our tips for designing a modern farmhouse!
Most Popular Kitchen Design Styles:
1. Traditional
2. Modern
3. Transitional
4. Eclectic
5. Vintage
6. Glamorous
Traditional:
Traditional style kitchens are warm and welcoming, with a refined finish. Classic details and a timeless color palette is a major indicator of a traditional style kitchen, as well as gorgeous embellishments that add a touch of charm.
Traditional style kitchens are warm and welcoming, with a refined finish. Classic details and a timeless color palette is a major indicator of a traditional style kitchen, as well as gorgeous embellishments that add a touch of charm.
Modern:
Modern kitchens are rising rapidly in popularity, and we can see why! A beautifully modern style kitchen embraces contemporary elements, while creating an overall timeless aesthetic. Clean lines and minimal decor make a modern kitchen one that you'll love for a lifetime.
Transitional:
Transitional kitchen designs are seen as a combination of both modern and traditional design elements. A balanced mix of textures and colors make up a transitional kitchen design, which also allows for plenty of creative freedom when designing.
| | |
| --- | --- |
| | |
| | |
| | |
| | |
Eclectic:
Eclectic kitchen designs are known in the interior design world for featuring diverse design elements. The eclectic design style is rising in popularity due to its unique and modern aesthetic. To create an eclectic design, designers mix textures, colors, styles, and various trends. Often neutral colors are at the base of the design while brighter colors are placed throughout the kitchen. Since the kitchen is the most used room in the home, it is often riddled with clutter, but with an eclectic style kitchen you may not even notice. The beautiful design style is often filled with unique design elements, various patterns, and other items that can camouflage even the busiest kitchen. If you're someone who loves to show off your personal style throughout your home, an eclectic design is certain to be a great fit for you.
Vintage:
Vintage style kitchens are often inspired by the 1950s, 60s, or 70s. It can even be a combination of all three decades or feature elements from further back. A vintage kitchen design is commonly described as warm, inviting, or classic. To create a beautiful vintage style kitchen, it's a good idea to mix light and dark color palettes, while incorporating unique old-fashioned features.  You'll want to make sure you are very detailed in your design and try and incorporate vintage-style fixtures throughout your design. A vintage style kitchen design truly shines in the details and can be brought to life with period pieces, tasteful light fixtures, and wooden elements.
| | |
| --- | --- |
| | |
| | |
| | |
| | |
Glamorous:
Glamorous kitchen designs present a luxurious appeal that is truly show-stopping. The chic style is inspired by glamor and elegance, to create a one of a kind kitchen interior. When creating a glamorous kitchen design, think sophisticated and bold. A large kitchen island is typically featured in a glamorous kitchen, with pendant light fixtures that frame the focal point. Bright white is one of the main elements to a glamorous kitchen design and can be incorporated as your cabinet or countertop color to add an elegant appeal. One of our favorite design elements to solidify the glamorous style is matte black hardware. You can also incorporate sparking backsplash and stainless steel appliances to complete the luxurious look.
7. Coordinate
Choose the best color scheme.
Now comes the fun part! After you've decided on the style you'd like for your kitchen, you can decide on a color scheme that will best coordinate with your style. Choosing a color scheme is a big step in determining the overall look of your kitchen. Your color scheme will be what you go to for selecting all of the major kitchen design elements, like cabinets, hardware, countertops, and light fixtures.
So to help you find the perfect palette, let's look at a few of the most popular kitchen color schemes. In general, your color scheme will depend on the style you choose for your kitchen design. But, to know surprise, brown, white, and gray are by far the most popular choices for the main color in any kitchen interior.
To dive deeper into your kitchen color scheme, we'll go over the most popular colors for your kitchen's overall color scheme, including main color, flooring color, appliance color, cabinet color, and backsplash color, according to Home Stratosphere.
Also note that we have a complete blog post on our best backsplash ideas for white cabinets. So be sure to check that out if you're opting for white cabinetry!
The Most Popular Flooring, Appliances, Cabinets, & Backsplash Colors are:
1. Main Color
2. Floor
3. Appliances
Stainless Steel
Panel
Black
4. Cabinets
White
Medium Wood
Dark Wood
5. Backsplash
When it comes to choosing the right paint color for your kitchen walls, it can be hard to know where to start, that's why we're going to look to Pantone's 2021 Core Classic Colors.
Now that you have a good idea of the most popular colors found in a kitchen, we're breaking down how to choose the right color for your kitchen walls. No matter what your style is, you'll want to select a wall color that helps enhance the overall design of your kitchen. Neutral shades are typically a great choice for kitchen wall color and can range from light cream and tan to soft sage and subtle orange.
We recommend any of Pantone's 2021 Core Classic Colors because they style well in any season and nearly any design theme. Whether you prefer classic and traditional or modern and contemporary, any of these shades will be a beautiful choice for your kitchen design.
The Top Colors Pantone recommends for any season.
These shades allow you the freedom to create the style of your choosing. You can select one of the following colors for the walls in your kitchen, or use a combination of these colors. You may decide to use one of the bolder shades for a kitchen accent wall or select a lighter shade for your cabinets, paired with a soft shade for your kitchen walls.
8. Select
Select the best cabinets & hardware for your kitchen design.
Now comes the fun part! After you've decided on the style you'd like for your kitchen, you can start selecting the best materials to create your design. You'll want to determine what finishes, colors, patterns, etc. will help you bring your kitchen cabinets to life.
Keep in mind that your budget will be a major factor in selecting the best cabinet material and hardware for your kitchen. Before you get started you should have your budget set and know how much you are willing to spend on each design element.
That said, we will break down the cabinet material and hardware most commonly used for each of the kitchen design styles we discussed above, to give you an idea of what will work best.
Traditional:
Cabinets: 
Wood or wood veneer are by far the most popular material choices for traditional style cabinets. Since classic kitchens typically focus on embellished cabinetry, wood cabinets offer the option for unique raised panel doors, traditional finishes, and antique glazes. In a traditional kitchen design, cabinets are usually natural wood colors, white, or cream, and are complete with crown molding and simple hardware. Glass panel cabinet doors are also a popular choice for traditional kitchens and add an elegant touch to the design.
Hardware:
Traditional kitchens typically feature classic hardware in gold, bronze, oil rubbed bronze, or brushed nickel. Your style preference plays a big role in selecting your traditional hardware, and with so many options it will come down to which one you prefer. Vertical bar pulls are often popular, as well as knobs, pull cup handles, and ring pulls. There are also many unique novelty pull and knob options that can add a personal touch to your kitchen.
Modern:
Cabinets: 
Metal, glass, laminate, and wood veneer are all common cabinet materials for a modern kitchen design. Modern style cabinets typically feature flat-panel or slab doors, and stay away from raised panels. However, a contemporary kitchen can feature slightly raised panels if they keep with a sleek look, and commonly feature recessed panels as well. Doors are typically smooth, and may not feature any visible hardware on the front. In a modern kitchen, all white cabinetry is a very popular choice, but you can also opt for gray or other unique colors to create a beautiful contemporary look.
Hardware:
Modern kitchen hardware is simple, sleek, and sometimes, non existent. In a modern kitchen design, hardware can be gold, matte black, brushed nickel, or plain silver. Typically the hardware color pairs with the kitchen faucet and other metal design elements, but can be contrasted for a unique look. Contemporary kitchens also may not incorporate hardware at all, and stick with a smooth, cabinet door that opens from beneath. Knobs, as well as horizontal and vertical pulls, are both popular options for a modern kitchen design.
Transitional:
Cabinets:
Wood, laminate, glass, and wood veneer are all popular cabinet materials for a transitional kitchen design. Transitional style cabinets give you the freedom to be creative and choose which material and color fits best in your design. Recessed panel cabinet doors, glass front doors, and inset panel doors are well-known to be great for a transitional style kitchen. Colors range from cream and white to natural wood and light gray in a transitional design, and can vary depending on how contemporary or how classic you wish your kitchen to be.
Hardware:
Transitional kitchen designs don't usually stick to a typical hardware type. Knobs, pulls, and even handles can all be incorporated in a transitional style kitchen. Often, knobs and pulls are combined in a transitional kitchen design to create a cohesive look. Hardware is an excellent way to take your transitional kitchen and make it either more modern or more traditional, based on the hardware you choose. If you'd like to create a more classic transitional design, knobs are a great fit, while a more contemporary transitional design would work well with matte black pulls. Gold knobs are patterned knobs are also beautiful in a transitional design and offer a unique touch to cabinetry.
Eclectic:
Cabinets: 
Glass, laminate, metal, mirrored, and wood are all popular choices for an eclectic kitchen design. Cabinet colors range from light wood and white, to soft cream and gray. Often in an eclectic design there are colored cabinets featured on the kitchen island. This adds a pop of color that is very popular in eclectic kitchen designs. Nearly any style of cabinet will work in an eclectic style kitchen, giving you the freedom to be creative and have fun with your design.
Hardware:
Eclectic kitchen hardware is typically on par with modern style hardware, however, eclectic style kitchens may feature novelty handles. Novelty handles are very unique and offer a way to add your personal flair to your eclectic kitchen. Matte black, brushed nickel, and silver are all popular hardware finishes for an eclectic design. While sometimes eclectic style kitchens forgo hardware all together for a unique look.
Vintage:
Cabinets: 
Vintage style kitchens popularly feature wooden cabinets in natural wood colors, along with cream, white, beige, and sage. In a vintage kitchen design frosted glass panel cabinet doors are common, as well as recessed or raised panel doors. Crown molding is often featured in a vintage kitchen and offers an old-fashioned, yet beautiful appeal to the design.
Hardware:
In a vintage kitchen design, hardware is often rustic and can range from handles and knobs to vertical and horizontal pulls. Brushed oil rubbed bronze is a popular choice for vintage kitchen hardware, as well as brushed nickel, which both add to a vintage style. When searching for vintage style hardware, you'll want to look for detailed pieces that will solidify your timeless design.
Glamorous:
Cabinets: 
Wood, metal, and glass are all excellent choices for a glamorous kitchen design. Typically, recessed panel cabinet doors paired with crown molding make for an elegant cabinet system. Cabinet colors in a glamorous kitchen design range from white and cream to gray and black, but typically match well with the countertops or other design elements to create a cohesive look. Glass front doors are very popular in a glamorous kitchen design and allow for you to display your beautiful dining ware in a unique way.
Hardware:
Glamorous kitchen designs often feature matte black or silver hardware, and also match the hardware to the kitchen faucet or kitchen appliances. Simple hardware pieces, like knobs, horizontal pulls, and vertical handles, work best in a glamorous kitchen. When searching for the perfect hardware for your glamorous kitchen, think sleek and sophisticated, and opt for hardware that will give your kitchen an elegant look.
9. Choose
Choose the perfect countertop material.
Traditional:
Countertops:
Granite countertops are an excellent choice for a traditional style kitchen. The natural material offers a unique pattern with every slab, making for a one of a kind kitchen countertop. Granite typically features a neutral color palette and comes in many patterns from detailed to muted. In a classic kitchen granite can be a beautiful focal point, however, laminate and solid surface also offer similar patterns for a more affordable price.
These granite materials are beautiful options for a traditional kitchen design. From left to right; White Sand, Snow Fall, and Carvelas Gold, all offer a bold neutral pattern that works well with classic tastes.
Solid surface on the other had, is equally beautiful and offers similar patterns to granite, as well as more subtle designs. From left to right; Lunar Sand, Harvest, and Wallowa, all present a gorgeous countertop material for any classic kitchen design.
Modern:
Countertops:
Quartz is by far the most popular countertop material in any modern kitchen design. More often than not, white quartz or marble is featured in a contemporary style kitchen. But jet black countertops are also very popular in a contemporary kitchen design. The pattern of a modern kitchen countertop is typically minimal, with veins of gold, silver, white, or gray, which create a stunning design. We recommend choosing a countertop with a light or dark bedrock, or both! Then pair the countertops pattern with an accent color in your kitchen to create a cohesive interior. Laminate and solid surface countertops also offer beautiful patterns that pair well in any modern kitchen design.
These quartz countertop materials are perfect for creating a modern kitchen design. From left to right; Arion, Marquina, and Bianco Calacatta, all contribute a gorgeous pattern to any contemporary style kitchen.
Laminate and solid surface countertop materials offer patterns that resemble quartz and marble. From left to right; Aurora Pavia is a beautiful light gray solid surface countertop choice, while Calacatta Marble and Nero Marquina are stunning laminate materials. All fit perfectly in any modern kitchen design.
Transitional:
Countertop:
Virtually any countertop material can be a good fit for a transitional style kitchen. From luxurious materials like quartz and granite to more affordable options like laminate and solid surface. There are numerous possibilities for a transitional kitchen design. Light colors like white, cream, and soft gray are common transitional kitchen countertop choices, however dark browns, tans, and blacks are also popular. The choice is completely yours and with any of these materials you can create a stunning transitional kitchen design.
Quartz is by far our favorite countertop material and offers many options for creating a transitional kitchen design. From left to right; Alabaster White, Aura, and Calypso quartz all make a great fit for a transitional style kitchen.
Solid surface, laminate, and granite materials all offer beautiful patterns, perfect for a transitional kitchen design. Frostine solid surface, White Bardiglio laminate, and Mystic Springs granite all offer stunning patterns fit for creating an exciting transitional kitchen design.
Eclectic:
Countertops:
For an eclectic kitchen design, quartz, solid surface, and laminate are all excellent choices that offer a wide selection of patterns and colors. When styling an eclectic kitchen, you can be creative and choose a rich, dark countertop in a charcoal gray or choose a lighter countertop that will offer a neutral base for your eclectic design.
Quartz is an excellent fit for an eclectic kitchen design, specifically quartz materials with subtle, yet beautiful patterns.  From left to right; Calacatta Botanica, Calacatta Alto, and Arion quartz are a perfect base to build a truly unique, eclectic style kitchen design.
Solid surface is another gorgeous option for an eclectic style kitchen design. From left to right; Marta Gray, Genova, and Ebony Concrete are uniquely well-suited for an eclectic kitchen design.
Vintage:
Countertops:
Granite is an ever-popular choice for vintage kitchen designs and offers a unique pattern with each different slab. The countertop material is perfect for creating a historic-looking interior that is certain to stand out. With a natural color palette, granite is perfect for neutral tones and pairs well with wooden elements, which are very popular in vintage kitchen designs. Quartz countertops also offers several beautiful designs that pair well with a vintage kitchen, as well as solid surface which can resemble granite or quartz.
We love granite for a vintage inspired kitchen and the right granite material can truly complete your vintage style kitchen design. These granite materials are some of our vintage inspired favorites. From left to right; New Venetian Gold, Solaris, and White Sand all offer a gorgeous pattern fit for an old-fashioned style kitchen.
   
Solid surface and quartz can also be a show stopping addition to a vintage kitchen design. Chakra Beige (left) and Bamboo quartz (center), offer vintage beauty that is certain to blow you away. If you aren't' into patterned countertops, we suggest Almond solid surface (right), which is a beautiful neutral material perfect for a vintage inspired kitchen.
Glamorous:
Countertops:
A glamorous kitchen design almost always features a glamorous countertop material, and quartz is certainly that. To create a glamorous kitchen, you'll want to choose a countertop material that offers an elegant and sophisticated base for the rest of your kitchen design. With numerous options for white, light gray, and cream countertops with simple, yet stunning patterns, quartz is perfect for just that. However, if you're looking for something a bit more budget-friendly, solid surface countertops offer similar patterns to quartz, without the price tag.
We love quartz for a glamorous kitchen design because of the beautiful marble-like pattern many slabs feature. From left to right; Et Bella, Calacatta Leon, and Calacatta Lucina quartz all present a stunning pattern of soft gray veining, perfect for a glamor style kitchen.
Another stunning quartz we can't help but recommend for a glamorous kitchen design is Fairy White, a beautiful and subtle, white material. Solid surface is another favorite we love for glamorous kitchen designs. Genova (center) and Edessa (right) are two that are certain to add to the sophistication and elegance of a glamorous kitchen design.