Top Kitchen Design Trends [2021 Update]
The "new normal" 2020 has brought us has given a whole new meaning to the term "staying home." As people are adjusting to working and living in the same space, home updates have been brought to the top of many homeowners' todo lists – Especially in regards to the kitchen. After all, the kitchen is the most used room in a home and if you have to stay home, you might as well make it as comfortable and appealing as possible.
To help you in your kitchen remodeling journey, we're going over all that's trending in the kitchen design world. From lighting and colors schemes, to countertops and flooring, we'll touch on everything you need to create a beautiful, on-trend kitchen you won't mind spending all day in!
You'll find the top trends for all the necessary kitchen design elements, including:
1. Lighting
2. Wall Colors
3. Cabinets
4. Countertops
5. Appliances
6. Kitchen Flooring
But first up, let's go over the biggest trends in overall home design for 2021.
Hottest Trends – Natural Influences & Warmth
Large Windows Let In Natural Light
The biggest trend in overall home design this year has been bringing natural influences into the home. Expect that to continue into 2021 as people are looking for ways to avoid feeling 'stir-crazy' when stuck at home most of the day. What better way to bring refreshing outdoor natural influences into the home with spectacular outside views than by installing large picture windows throughout the house where possible.
Looking out large windows at distant mountains or contemplating a close-by lake or river, lets you remember there is more to life than a cluttered kitchen or stress-inducing remote work. You'll easily relax and shed stress in minutes when relishing in the beautiful natural light. When the sun goes down, opt for warm comfortable lighting throughout your home to help soothe any nerves.
A positive and upbeat mood prevails for people wherever warm sunlight flows into rooms throughout a house. Add in warm or light pleasing colors on walls and floors and add brighter accessory accents. Homeowners feel less stressed and happier to be in their home environment.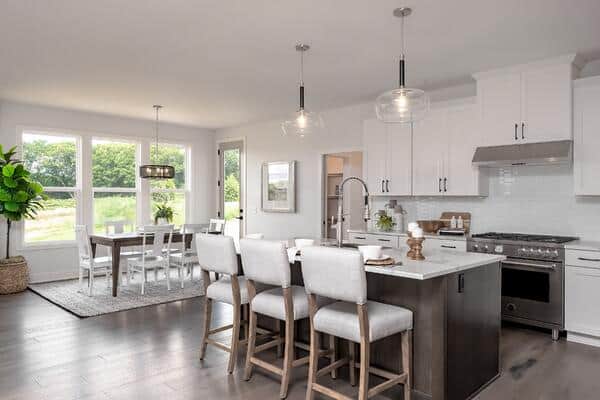 Colors Help Create A Comfortable Home
Warm beige colors and varied green hues that reflect lush gardens or the sea, or the light blues and grays of the sky, remain popular choices for painting walls. Light browns, such as a mushroom color, work well too. Furniture materials can pick up the paint color in a multicolored fabric, or you can use a contrasting color.
Wood floors or tile also pick up or complement wall colors, while furniture and small accessory pieces provide those stronger color accents that meld together for a pleasing environmental outcome.
Check out these popular colors for 2021 from several top paint companies:
Now, for the moment you've been waiting for! Drum roll please….
Top Kitchen Design Trends For 2021
1. Lighting
While large picture windows work well in living and dining rooms, kitchens and breakfast nooks also benefit from extra sunlight when installing sliding glass doors leading to the outdoors. A window over the sink is a beloved trend that will continue into 2021.
Even better, a large window extending past the edges of the sink opens that confined area to provide more light without the need of an overhead spotlight until evening rolls in. Check out some visual ideas here from Houzz. You can glance out to view the wildlife, trees, mountains, and lakes while rinsing used dishes.
Under-cabinet lighting is another major kitchen design trend we're seeing and we love it! By installing lighting underneath cabinetry you'll have the option for soft light in the evening instead of the usual bright overhead lighting. It will also give you more visibility to cook, clean, and entertain in your kitchen.
Pendant light fixtures are another gorgeous trend that has been rising in popularity in recent months. These drop down lighting fixtures give you plenty of light while also adding a unique design element that can be customized to fit your style. A kitchen bar or center kitchen island makes a great place for pendant lights to dangle but if you don't have one, think about adding that kitchen island if you have the space for it!
Pro Tip:
Use kitchen and dining light fixtures that can be dimmed to a softer tone after the cooking is done so that everyone can relax with full tummies after a great meal. Dining and kitchen spaces are still the best places for everyone to gather together and connect after a day of being off at school or work.
2. Wall Colors
Wall color choices still tend to be white, beige, or light gray, but with warmer hues to counterbalance that pristine look. Behr's Back to Nature is a beautiful choice and offers a stunning sage/gray coloring. Benjamin Moore's First Light is also a stunning accent color that adds a fresh and vibrant touch to any space, the beautiful light rose works especially well in the kitchen.
Don't forget that you can paint your kitchen ceiling or an accent wall a different color hue to add depth and contrast. Painted window and ceiling trims can add more spark to the overall aesthetic.
Colors Help Create A Comfortable Home
Warm beige colors and varied green hues that reflect lush gardens or the sea, or the light blues and grays of the sky, remain popular choices for painting walls. Light browns, such as a mushroom color, work well too. Furniture materials can pick up the paint color in a multicolored fabric, or you can use a contrasting color.
Wood floors or tile also pick up or complement wall colors, while furniture and small accessory pieces provide those stronger color accents that meld together for a pleasing environmental outcome.
Check out these popular colors for 2021 from several top paint companies:
Pro Tip:
No matter what color you choose, opt for shades that will withstand the test of time. This way, you won't get sick of seeing the same color day-to-day and save yourself from repainting down the line!
Cabinets are a major player in the kitchen design world and have a huge impact on the final look of a design. It's important to always select cabinet wood finishes that complement your wall color, whether a similar shade or a contrasting color.
Sticking with the latest trends, light colored cabinets are not losing their popularity any time soon. With a wide range of shades to choose from, our kitchen designers are experts at helping you choose the perfect shade of white, cream, beige, or even gray to solidify your vision.
This immaculate modern kitchen remodel shows how the right cabinets can be a stunning focal point to a kitchen design. The white cabinetry system pairs beautifully with the dark brown kitchen island, creating an appealing contrast and welcoming feel.
Along with the ever-popular white cabinet system, darker colors, such as chocolate browns and charcoal grays, work great, as well as vibrant colors like navy blue, burgundy, or even plum. The key to cabinetry is finding the right color and style to compliment your kitchen and show off your personality.
When it comes to cabinets though, there's more than just color and style trending. Most cabinet manufacturers have caught on to customers wanting better storage options and more functionality from their cabinets.
Bottom cabinet sliding pullouts have become increasingly popular due to just how convenient they are. Sliding pullouts allow you to avoid getting on the floor to find that casserole dish you haven't used in ages. You can easily stack everything without having to unpack cookware to get to the back piece you wanted.
There are also in-between cabinet pullout racks where you can safely store bottled liquids for cooking, as well as contained spices and herbs. Once you use what you need for that meal, you just slide it back in and everything is now hidden. Alternatively, you can also use a specially-designed drawer for storing your herbs and spices.
Pro Tip:
Always ask what there is available for keeping your pots and pans tucked away, yet easy to pull out when you need one. Check out a few options from Dura Supreme Cabinet here.
Quartz is a favorite among types of countertops and comes in many styles. The countertop material is at the top of most designers' lists for nearly any kitchen or bathroom design due to its lasting beauty and durability.
Quartz is trending in the design world due to being easy to care for and more affordable than granite, in fact once your quartz countertop is installed, it will be beautiful for years with very little upkeep except for basic cleaning. More specifically, light colored quartz is majorly trending and is currently the most popular style of countertop on the market. Silestone and Viatera are two of the top quartz countertop brands and both offer a wide array of different colors and patterns.

To no one's surprise, there are already several specific quartz countertops trending for 2021 in various designs and shades. We're sharing some of the hottest quartz countertop materials available, that also happen to be some of or favorites! We can attest that any of these light quartz materials will absolutely shine in any bathroom or kitchen design.
Top Quartz Countertop Trends
Other countertop options include granite and marble, although these materials can chip more easily than quartz. If necessary, you can have a specialist come in and repair any damages to your countertop should the worst happen, so such issues are not that problematic.
Not sure what countertop is right for you? Don't worry, our designers work with every client one on one to provide guidance in choosing the perfect countertop for your design. As one of the most important design elements in a kitchen, we guarantee to help you select a stunning stone that you will love for years to come.
Pro Tip:
Always use a cutting board on any countertop when chopping food instead of using the countertop surface. After all, it is far easier to replace a cutting board than a countertop!
Stainless steel appliances will likely never go out of style and are another popular trend we'll see continue into 2021. The light gray color (shiny or matte) goes with every cabinet, wall, and flooring color you can come up with and often gives off an elegant appeal.
If you're someone who loves a crisp, seamless look, then stainless steel appliance are definitely your best bet. There is something very clean-looking with stainless steel appliances throughout a kitchen, especially when all of them are from the same manufacturer.
This seamless stainless steel kitchen remodel is the perfect example of what great appliances can achieve. The crisp silver of the fridge, oven, range hood, and microwave pair beautifully with the cabinet hardware, kitchen sink, and pendant light fixtures to create a flawless design.
Yet, a new trend that has emerged in recent years is colored appliances and we don't see this trend going away any time soon! Maybe you have decided you want a very pristine look in the kitchen but want to add a pop of color by using an appliance manufacturer that puts out a whole set in burgundy. KitchenAid, for example, puts out appliances in fire engine red and cobalt blue, aside from the standard colors.
Or maybe you want to be bold and add a gorgeous black designer fridge from Sub-Zero. We honestly cannot get over the jaw-dropping impact this matte black refrigerator has in this kitchen. Does it get any better than that?
Pro Tip:
Easily wipe off the kid's fingerprints once a day to keep the crisp, clean aesthetic stainless steel creates.
6. Kitchen Flooring
The latest trend for kitchen flooring is by far hardwood floors. They offer a gorgeous aesthetic and give any room a warm and welcoming feel. The soft wood is perfect for colder mornings as it won't feel as chili as tile and it's also very easy to keep clean.
Along with wood, tile, cement, and brick are options for flooring in the kitchen. There are several factors to consider when choosing a type of flooring, and that is whether it will be easy to clean away dropped food and liquid spills, for one. The other is if you drop your cast iron skillet on it, will the floor crack? If you have a ceramic tile floor, you will have to replace the part that was damaged.

This gorgeous, bright white farmhouse style kitchen shows off stunning wood floors in a light shade of brown. The contrast between wood and white cabinets is another part of this trend that we see gaining popularity. Overall, you can't go wrong with hardwood floors in the kitchen and they are definitely an investment you will be happy you made!
Pro Tip:
With any floor you choose, watch out for an uneven installation. If you have edges sticking up or divots in the floor, it will be easy for someone to trip.
Make the most of the top kitchen design trends!
There are a lot of choices available when you decide you want to redesign your kitchen. You can do a complete overhaul down to the bare walls and floor, or you may choose a more budget-friendly option, such as refacing your current kitchen cabinets. Your decision will be solely based your needs, wants, and budget.
---
The kitchen is where people gather. Make your space spectacular today by scheduling an appointment with one of our design consultants.
The Kitchen Shop is a West Michigan's premier kitchen and bath design and remodeling center with locations in Lansing, Jackson, Battle Creek, and Kalamazoo.