Accent walls are no longer limited to just a coat of paint, this design trend has recently been completely reinvented into a much more purposeful feature. The options for accent walls are only limited by what your imagination can think of, so let's spark your creativity with some of our favorite accent wall ideas.
A bathroom accent wall will take your bath from drab to fab.
This time, we're focusing specifically on bathroom accent walls! Being one of the smallest rooms in the home, a bathroom is the perfect place to step out of your "style comfort zone" and be a little daring with your design. These bathroom accent wall ideas will help you create a focal point that is certain to bring new life to your interior!
Our top 7 bathroom accent wall ideas:
Shiplap
Board and Batten
Floral Wallpaper
Black Grasscloth Wallpaper
Countertop Takeover
Subway Tile
Open Shelving
1. Shiplap
First up, a shiplap accent wall in the bathroom is an absolute gorgeous design feature. Shiplap creates a crisp, clean look that is the perfect focal point for your bathroom. While shiplap was originally known for being more traditional, in present-day there are more than enough ways to make the wooden element work for any style. Black shiplap is exceptionally great for fashioning a modern and dramatic aesthetic, as seen here (1) with this white quartz and sleek cabinetry. While white shiplap will give you an alluring and sophisticated vibe, paired here (2) with glamorous silver and gold features. A shiplap accent wall can even be used vertically like in this design (3), to create the appearance of a larger space. However you style your shiplap accent wall, the results are sure to leave you satisfied!
2. Board and Batten
A board and batten accent wall can add the perfect finishing touch to your bathroom design. Board and batten pairs beautifully with contemporary or traditional stylings, and can be implemented as a full or partial wall. Shown here (1) in bright gray against a soft white wall, creating gorgeous contrast to the space. While taking up a full or nearly full wall with board and batten gives a more modern appeal, as seen here (2) paired with a stunning chandelier and again (3) with a chic glass shower. You can create your board and batten bathroom accent wall anyway you like, because no matter what, you'll end up with a truly unique and elegant space.
3. Floral Wallpaper
Floral wallpaper is back and better than ever! Choosing a floral wallpaper accent wall for your bathroom is certain to be a show stopping feature. With nearly limitless patterns to choose from, floral wallpaper can pair beautifully with any style. If you prefer bold and glamorous, as seen here (1) with this dramatic and realistic pattern, use a floral wallpaper accent wall to create a profound powder room. Is your taste more soft and chic? A floral accent wall can give you the elegant aesthetic you're looking for, just like with this (2) subtle and abstract floral print. You and your guests are sure to be swooning over the finished design.

4. Black Grasscloth Wallpaper
Black Grasscloth wallpaper is a choice favorite among interior designers for an accent wall in the bathroom, and we can see why! Black Grasscloth wallpaper is undoubtedly a stunning choice, with a unique textured look and luxurious shiny finish it creates a striking focal point to any design. In this bold bathroom (1), the hand trimmed black grasscloth wallpaper clearly stands out, leaving behind lavish results. When paired with gold accents, black grasscloth wallpaper is especially stunning, seen here (2) with gold sink and shower hardware. Together the black and gold contrast creates an enviable design, worthy of a home-design magazine!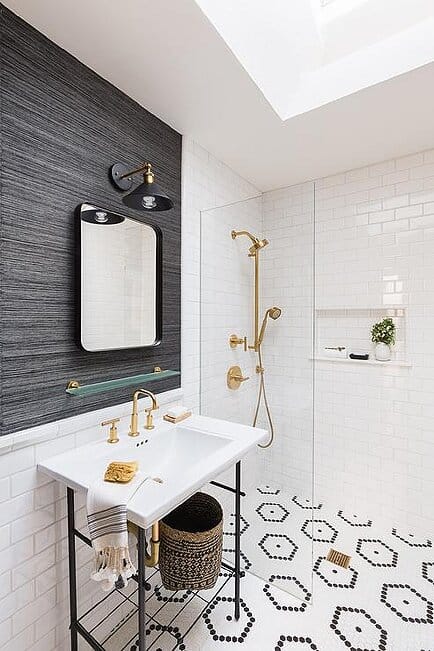 5. Countertop Takeover
Sometimes accent walls can be more than a wall! In fact, the fun part about an accent wall in the bathroom is being able to use multiple design components to create a personalized look. One of our favorite ways to do so is with a floor-to-ceiling quartz wall and stand alone countertop. Shown here (1) with Silestone Et. Calacatta Gold quartz and a wooden stand alone countertop, this accent wall is complete with vessel sinks that solidify the wall as a unique design element. Quartz can also be brought from your wall to your countertop to create a fluid and elegant canvas fit for decor. This accent wall (2) features Silestone Polaris quartz and beautiful bronze dual mirrors. Together any of these or other bathroom features will give your space the unique flair you're looking for!
6. Subway Tile
Whether your style is farmhouse traditional or modern glam, a subway tile accent wall is a fabulous design feature for your bathroom. Gold, silver, or matte black features pair equally beautiful with subway tile, with each pairing creating a completely different look. With black and white tile options, a subway tile bathroom accent wall allows for your creative freedom to thrive. Black subway tile in a unique pattern creates a stunning bathroom accent wall and pairs beautifully with a white vanity and gold decor. Evident in this contemporary design (1), subway tile can create an enchanting and bold aesthetic. If chic and classic is the look you're going for, this subway tile design (3) paired with natural wood and warm farmhouse features, shows just how versatile this accent wall option can be!
7. Open Shelving
An open shelving accent wall in the bathroom is as functional as it is stylish. For small powder rooms with limited storage, seen here (1), an open shelving system is the perfect way to add usable surface area for towels, perfumes, plants, decor pieces, and more. The on trend bathroom accent wall is more versatile than traditional cabinetry and like in this design (2), can be used in small areas that would otherwise be wasted space. Open shelving accent walls can also be just for looks, in this design (3), beautiful wooden shelves are mounted beside the bathtub and are home to a large plant, decorative bowls, candles, and nicely rolled hand towels. However you choose to style your open shelving accent wall, you'll certainly love your new look!
Design a beautiful bathroom accent wall with The Kitchen Shop.
We're here give you the guidance you need to ensure your bathroom remodel goes smoothly.
We have everything you need from cabinets, countertops, plumbing fixtures, appliances, and hardware. With over 30 years in the business and tons of experience working with all styles of design and countless remodels, we've specifically mastered the modern farmhouse look.
When you're ready to create your own spa sanctuary, we'll be there for you through it all and ensure your vision to made into a reality.
---
Connect with us today for more information and get if you're ready to start your kitchen remodeling journey schedule an appointment with one of our talented design consultants.
The Kitchen Shop is a West Michigan's premier kitchen and bath design and remodeling center with locations in Lansing, Jackson, Battle Creek, and Kalamazoo.