White cabinets with light-colored countertops and flooring give you the pristine look that many homeowners love having in their kitchen. While an all-white look is stunning, pairing the look with a beautiful backsplash can make an even bigger difference. Our designers have an eye for perfectly pairing white cabinets with the right backsplash to create a stunning kitchen design. If you love the a crisp, white look in the kitchen as much as we do then get ready because we're sharing some of our best ideas and tips to help you make the most of this latest design trend.
Beautiful Kitchen Backsplash Ideas For White Cabinets
Backsplash is one of the easiest elements to add when remodeling your kitchen, and is perfect for giving your design a unique, personal touch. With virtually limitless combinations to choose from, there are several different elements to look at when choosing the best backsplash for white cabinets.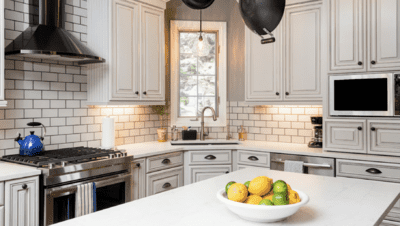 When surveying your backsplash options, you'll come across many white backsplash ideas. But you can also look for a tile design or pattern that ties your wall color and countertop color to your cabinets and flooring. Or, you can do something dramatically different, such as a cobalt blue alternating brick installation or other types of backsplash material such as marble, granite, glass, and stainless steel. Your tiles can be installed sideways, from top to bottom, and even diagonally, but no matter what style, color, or design you choose, the right backsplash can add visual depth to the look of your kitchen.
With so many options, it can be hard to know where to start, but don't worry – We'll go over all of the factors involved in making your selection and look at ways to decide on a backsplash that will seamlessly pull your entire kitchen together.
Kitchen Backsplash Ideas With White Cabinets – Everything you need to know on:
1. Cabinet Door Design
2. Backsplash Installation Styles
3. Colored Grout
4. DIY Backsplash Design Tips
5. Doors & Suggested Backsplash
Now without further ado, let's get into it!
1. Cabinet Door Design
Let's take a look at cabinet door designs and how they can help give you an idea of the best backsplash for white cabinets to choose! The ever-popular shaker-style cabinet has crisp, clean edges that partner beautifully with subway tile backsplash. Inset cabinet doors are another go-to that pair well with nearly all backsplash designs. While recessed or flat-panel cabinet doors have a smooth, sleek look that's perfect for a intricately patterned backsplash.
In one of our latest kitchen remodels (1), you can see how these white shaker-style cabinets show off the white subway tile backsplash beautifully. We took this design up a notch by adding a unique pattern above the stove that acts as a stunning focal point to this modern kitchen.
The white, flat-panel cabinets in this modern kitchen remodel are paired with a stunning slab of marble-like backsplash. The solid backsplash features a detailed pattern of grey and silver veins that are accentuated by the silver hardware and stainless steel appliances. We're not going to lie, we think the results are truly breathtaking.
If you opt for cabinet doors with more detail and dimension, selecting a slightly raised backsplash can help solidify your look. You can also select neutral colored tile to pull together the color of your countertops and appliances. In this classic kitchen design (2), our designer did just that and went for a beautiful light gray backsplash, along with a unique, neutral colored tile design above the stove.
Make sure you don't overlook colors in silver, gold, and copper. The copper look is beautiful, especially if the tone or hue of a wood floor in an otherwise white kitchen is a match.
While not white cabinetry, this design (3) features off-white cabinets that are creamy and dreamy! The stunning, golden-beige backsplash accents the satin cabinet door finish beautifully and subtly pulls out the countertop's gold veins. We're also a little obsessed with the under cabinet lighting that allows the backsplash to shine!
Designer Pick: Horizon White Painted Oak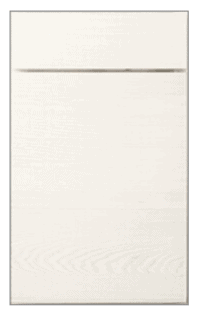 The Horizon White Painted Oak cabinet is an industry known favorite for any kitchen design. You can use just about any design or pattern of backsplash under this cabinet door, and our designers know this better than anyone!
A designer approved tip for how to style this white cabinet is to surround porcelain tile backsplash with a colored grout that picks up a thread of color in the countertop or the wall paint. This will give your kitchen that special touch, worthy of an interior design magazine.
2. Backsplash Layout Patterns
We absolutely love fun backsplash paired with white cabinets because you can mix and match colors, patterns, and designs throughout your kitchen to create your own customized look. White cabinets offer the perfect canvas for backsplash to stand out and since backsplash isn't an essential element to a kitchen, it's the perfect place for you to add your personal style!
Be bold with your design and choose from numerous layout patterns, each with a unique flair and style, to find the perfect one to fit your vision. Below are our design favorite kitchen backsplash ideas with white cabinets that are guaranteed to create show-stopping results.
Our Designer's Favorite Backsplash Layouts:
These are some of our designer's favorite backsplash layouts, each with a beautiful pattern, that can be customized to your color scheme, personal style, and more. For more detail on these backsplash layouts, additional patterns, and white backsplash ideas, keep scrolling to read a breakdown on all of the most popular layout styles.
Backsplash Layouts Broken Down:
Herringbone:

These are panels set in at 90 degrees to each other, shown in this design above the stove

Offset/Staggered Brick:

This is a style very popular in today's kitchens

1/3 Offset:

Somewhat like the staggered brick, but offset at a third point of each brick

Horizontal Grid Stack:

If the staggered 1/3 offset brick is not your thing, try the perfectly aligned look, shown in this design

Vertical Grid Stack:

Similar to a horizontal layout, with a vertical stack stack. These panel styles can carry diagonal designs that line up perfectly, but are easy to install

Diamond (Diagonal):

This can be used as a central focus point behind an open-top range or cooktop, shown in this design behind a wet bar

Basket Weave (Geometric):

A timeless backsplash, uses a mosaic of tiles to create geometric look, shown in this design

 Diamond (Diagonal):

This can be used as a central focus point behind an open-top range or cooktop, shown in this design behind a wet bar

 Random:

Individual tile pieces that can be used in different colors to create unique designs
You can see more of the above types of backsplash layout patterns and more at the Tile Shop!
Keep in mind that installing individual tiles diagonally may cost you more as you will have to manually cut each of the tops and bottom rows to fit under the cabinet, and below at the countertop edge. There will be some material loss here. This is also true of the chevron installation where edges are cut at 45 degrees to match up to the opposing side.
3. Use Colored Grout to Add Character
Grout can be used for more than just filling the spaces between tiles and when it comes to choosing the best backsplash for white cabinets, one of the lesser known design tricks is to use colored grout! In fact, colored grout can be the perfect finishing touch to compliment your white cabinets and give you a truly one of a kind look.
Since white cabinets already offer a clean base for your kitchen design, spicing it up with colored grout can take your interior to the next level of style. You can choose from grout in complementary colors or vividly contrasting colors to pair with your white cabinets, and even coordinate your grout to match a small detail of color in your countertops!
Grout may be one of the smallest touches in designing a kitchen, but our designers love how the right colored grout can flawlessly complete a design. In this transitional kitchen design, our designer paired dark gray grout with smokey-gray backsplash, white cabinets, and a matte black faucet – And boy did it deliver!
Want to go even bolder? Grout is available in nearly any color, from gold and pink to even orange and blue, there's a color to complete any vision! Gold is an especially beautiful grout choice and in the design below (1) pairs beautifully with gold hardware and shiny white cabinetry. Contrasting faint pink grout with dark blue tile, shown in this design (2), is a one of kind combination that is certain to turn many heads. Notice the rose gold hardware paired with white cabinets? This subtle color coordination completes this modern and romantic design.
Keep it classic and contemporary with silver grout and platinum tiles, as shown in this design (3), for a stunning, modern aesthetic. Silver grout pairs especially well with stainless steel appliances and hardware, and can create a striking design. Play with even bolder colors like turquoise blue, for a fun and playful design that shows off your personal style! We love how the bright blue grout in this design (4) stands out against the white cabinets and white subway tile backsplash, playing up the other matching blue design elements for a fluid look.
There's a world of grout and backsplash combinations out there that give you plenty of options for finding the right fit for your kitchen. When it comes to grout, make sure that you, or your installer, does a good job with the fill application and always keep a little extra set aside for grout chip repair, should you need it later.
4. DIY Backsplash Design Tips
If you are a do-it-yourself (DIY) type of homeowner, you can pick out backsplash from a local tile store, or one of the big box hardware companies (Home Depot, Lowe's), and create your own backsplash design!
There are so many kitchen backsplash ideas with white cabinets to choose from, to find the right one for you, take a picture of your cabinet door and countertop on your phone, grab a color swatch of your wall paint, and head to any tile store to start checking out the possibilities.  See what you can put together while looking at backsplash samples, having these samples with you helps to see how the backsplash will integrate into your current kitchen design.


You can also ask if you can check out sample pieces to take home and see how the backsplash might work with your surroundings. Stores often offer slabs like the ones shown above, so you can see the full design and layout of the backsplash against your countertop and cabinets.
5. Doors and Suggested Backsplash
Mid Continent Cabinetry's line of wood cabinets offers white cabinets in maple and oak. The Horizon (white painted oak) line offers the following stream-line look that can accommodate just about any backsplash design.
If you have a beveled design in your doors, such as the Princeton White Painted Maple and Oak, or a more complicated design, such as the Cottage White Painted Maple and Oak doors, then your backsplash should have less design that might clash with your door style. See the images below for examples of the designs mentioned here.
From left to right: Mid Continent Cabinetry Doors Horizon White Painted Oak, Princeton White Painted Maple (L) and Oak (R), and Cottage White Painted Maple (L) and Oak (R).
We already mentioned that the door on left end (Horizon) can handle just about any design and pattern you might find. The Princeton oak and maple doors can handle several patterns and designs, but less so than the Horizon. The Cottage oak and maple doors would do better with simple backsplash surfaces with little to no design, such as white porcelain tiles, but could handle contrast colors.
Bonus Tip: Don't Make this Major Mistake
The eyes are typically drawn to the backsplash area for how it stands out against white cabinets. So be careful not to make the MAJOR mistake of adding a border between your backsplash and countertop. Doing this can create a cluttered look and no one wants that! Instead, opt for the extra time it may take to properly measure or cut your tile and install your backsplash to meet the countertop.
See how in the backsplash design on the bottom left attempts to transition the backsplash to the countertop by bringing the countertop material up about four inches – Making the area look smaller and the design way too busy! While the backsplash design on the bottom right has the tile measured to fit perfectly all the way from the cabinets to the countertop, creating a flawless transition.
With over 70 years of experience in kitchen design, we've definitely learned a thing or two along the way, and we hope you found value in our best backsplash ideas for white cabinets! There is much more to come on kitchen design tips, ideas, resources, and more, so if you haven't subscribed already, be sure to do so before you leave!
Comment below what you want us to post next!
Work with a designer to create the perfect cabinet and backsplash combination.
We're here help you fall in love with your home.
When you're ready to make your kitchen dreams come true, we'll be there for you every step of the way to help make it a reality! Not only do we offer expert design services, we provide the tools and services necessary to bring our design's to life. We can't wait to get started!
---
When it comes to kitchen design, The Kitchen Shop has become one of West Michigan's premier remodeling centers and is here to help you! We have everything you need to create your dream kitchen, from cabinets and countertops to plumbing fixtures, appliances, and hardware, The Kitchen Shop is truly a one stop shop for all your remodeling needs. Our team offers over 300 years of combined experience in kitchen design and a master skill set to ensure the vision you have for your kitchen is brought to life.
Connect with us today for more information and get if you're ready to start your kitchen remodeling journey schedule an appointment with one of our talented design consultants.
The Kitchen Shop is a West Michigan's premier kitchen and bath design and remodeling center with locations in Lansing, Jackson, Battle Creek, and Kalamazoo.