When you're remodeling your kitchen, it can take a toll on your family. Trying to live life without a fully functional kitchen is a big undertaking, especially when the renovation process can take 2-3 months. This time commitment would be difficult for anyone, but it can be a particularly stressful time for families. The good news is, remodeling your home is exciting, and with these tips to help your family make it through a kitchen remodel, you'll breeze through the process with ease and get to enjoying your kitchen in no time!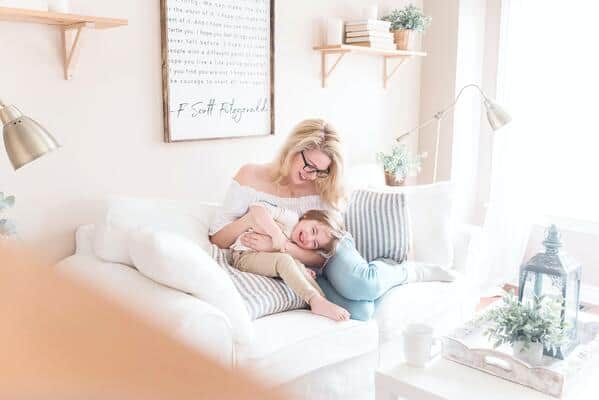 You're excited; you can't wait to get started, you're researching contractors, suppliers, designers, and are just about ready to launch into full remodeling mode. But, you're left wondering, with the chaos at home – the carpools, the homework, the late-night lunch packing – How you can your family possibly make it through a kitchen remodel? Don't worry, we've worked with countless families who have wondered the exact same thing, and throughout that work, we've uncovered six incredible tips for surviving a kitchen remodel.
6 Tips to Help Your Family Make it Through a Kitchen Remodel:
1. Find the Right Time
2. Allow Deadline Flexibility
3. Make a Makeshift Kitchen
4. Kidde Projects
5. Narrow Down Decisions
6. Be Understanding & Breathe
We'll go over the above tips in detail, and make sure you have the tools to confidently take on your dated kitchen and turn it into the kitchen of your dreams. Keep reading to learn more! 
Prepare Your Family Prior
1. Find The Right Time
The "right time" may not actually exist, but you can get pretty close! Our first tip is to align your remodel with a time that works best for your family. Your kitchen is by far one of the most-used rooms in your entire home. Think about how often you're in your kitchen cooking dinner, grabbing snacks, washing the dishes, helping with homework, or even hosting a party. You use your kitchen all the time! Which is why you want to make sure you're able to find the right time to remodel it.
Think about a typical year in your family's life and ask yourself these questions:
When are you usually the busiest?
When do you have the most free time?
Do your kids playing any sports? If so, what season?
When do you have the most room in your budget?
Are you planning any vacations this year? If so, when?
When do you want your remodel completed by?
Depending on your answers to these questions and any additional factors that may be involved, you'll want to block off a time on your calendar that interferes with the least amount of activities, then add two weeks. Summers are often a great time since the kids are usually out of school, so there's no need for homework sessions at the kitchen table, and your schedule is typically a bit more flexible. Do your best to plan ahead and find a time several months down the road.
Once you're confident that you've found the right time, announce to your family when the remodeling will begin and how long you expect it to take. Also, make sure to understand that your timeline may change, and use it as a basis for preparing your family while communicating that it is an estimate. Open communication is key to getting through a kitchen remodel, the more you communicate to your kids and partner, the more you prepare them, and the smoother your kitchen remodel will go!
2. Create A Flexible Timeline
Finding the right time is an essential first step, but preparing yourself and your family with a flexible timeline is crucial to a stress-free remodel. People often set a strict timeline with a hard end date because they commit to hosting a party or family gathering to show off their new space. While it's great to give yourself a deadline and get excited about the future, it's important to be reasonable when it comes to planning your timeline. There are many potential roadblocks that may come with remodeling your kitchen and you don't want to make your deadline the main focus. Instead, allow yourself to create an amenable timeline that allows for a flexible deadline.
When creating your timeline, label your calendar with the most important dates throughout your remodel. These may include cabinet or countertop tear-out, the day your plumbing is removed, installation days, etc. Make sure to use pencil or even better, sticky notes, when labeling, so that if something is rescheduled or delayed you can easily adjust your calendar.
When planning your timeline, the last thing you'll add is your deadline. Like we said, this is a flexible date you wish your remodel to be completed on. However, always add a buffer, even if it goes against your plans.
An Example Of A Flexible Timeline Could Look Like:
You plan to start your remodel on May 1st, and complete it by August 1st, for your end of summer cookout. This is a great timeline and, with three full months, that allow for a margin of error. However, to ensure your kitchen is complete in time for your party, you'll want to add a buffer of at least two weeks. This way, you'll save yourself from rushing to complete your kitchen in time or skimping on any details that you'll later find out were necessary.
Overall, with design, labor, shipping, and the actual construction, it's important to give yourself more time than you think. Giving yourself more time will ensure you don't feel rushed or overwhelmed, and worst case scenario, your kitchen is done before you anticipated. Fingers crossed for that!
Set Your Family Up For Success During
3. Make a Makeshift Kitchen
Creating a makeshift kitchen to use during your kitchen renovation is an excellent way to give your family a sense of normalcy during a hectic time. With a temporary kitchen set up, you'll be able to make select meals, keep necessities on hand, and save money by not eating out every night. You'll want to think about what meals you can make with the least amount of ingredients and that you can easily make with limited appliances and space.
We recommend setting up your temporary kitchen in the laundry room, or any room that offers an outlet for select appliances and water access for washing dishes.
To keep your day-to-day running smooth, your temporary kitchen should include:
Keurig or Coffee Maker
Microwave
Toaster
Crock Pot
Hot Plate
Mini Fridge
Plastic Silverware
Paper Plates
Don't worry if you plan on tossing your current microwave or any other small appliances, keep them on hand to get by during your remodel. Using disposable dining ware will make for fewer dishes, while a toaster, microwave, crock pot, and mini fridge will give you the ability to make many different meal options.
When planning your meals, try to get as much use as you can out of your slow cooker. With nearly unlimited crock pot recipes available, you'll find something even your pickiest eater will love, and crock pot clean up is a breeze. Microwave meals are also great and offer numerous options for the whole family. For breakfast, opt for bagels, pop tarts, or other quick toaster options. And don't worry, take out is unavoidable and it will be a great treat for days your family needs a pick me up!
4. Kiddie Projects
A kitchen remodel is a great opportunity to involve your kids and get them excited about the project. Not only will encouraging them to participate help alleviate any stress that comes from the shift in their routine, but it will also give them a chance to be creative.
You can narrow down your favorite choices for small aspects of your kitchen like backsplash or paint color, and take a family vote on which one to choose. Involving your children as much as possible will make the the process seem faster and keep them engaged even when the disarray is frustrating.
Another way to involve the kids is to get them excited about an activity they get to do because of the remodel. We love these ideas that will entertain your children for hours on end! If your remodel is taking place over the summer, you can also sign your kids up for a day camp. There are many camps available no matter what your child's interests are from sports and arts to science and music, giving you plenty of ways to keep your kids active and away from any construction. With your littlest ones, set up a designated play area if you haven't already, and be sure to block off any of your kitchen construction with baby gates. You can also set up your own activity area with new crafts and games they haven't done before to keep them occupied and engaged throughout the process.
5. Narrow Down Decisions
There are so many decisions to make when it comes to remodeling your kitchen, but try and have your big decisions made and smaller decisions narrowed down before you begin construction. It's helpful to have insight from other people but you want to make sure that you're making the right decisions for you and what you want. Working with a designer can help you fine-tune your vision and choose the right colors, materials, and layouts that best suit what you're looking for. We recommend a professional kitchen designer that will give you one-on-one attention to even the slightest details, this way you'll feel confident that every decision will be the right one.
From countertops and cabinets to backsplash and hardware, the decision making can seem endless when you're undergoing a kitchen remodel. With the help of a trusted designer, you'll be able to make each decision with ease and finalize the exact kitchen you have in mind! Our biggest tip though is to take your time with it. You don't get to remodel your kitchen every day, or even every year, it's an exciting time and we encourage you to enjoy it as much as possible!
Give Your Family Grace
6. Be Understanding & Breath
Going through any type of change can be stressful, no matter how excited you are. Whether you're stressed about time, finances, or simply overwhelmed with having your kitchen out of commission, be kind to yourself and your family! It's completely normal to feel a little bit off and everyone in your home will probably be feeling this way too. But, the important thing is to be kind to yourself and look forward to your new kitchen!
So many new memories will be made during and after your remodel. It is a time where you can think outside the box, have makeshift dinners in front of the TV, teach your children about construction, or even take a family vacation to get away from it all! Do your best to find calm in the chaos and express gratitude to your family. Lastly, try to remember that no matter how long it seems, your remodel will not last forever. Allow yourself and your family some grace during this time and remember to just breathe. Take some deep breaths and before you know it your dream kitchen will be complete!
Begin the journey to the kitchen of your dreams with The Kitchen Shop.
We're here to make your kitchen remodel as stress free and enjoyable as possible for your entire family.
With everything you need to create your dream kitchen, from cabinets and countertops to plumbing fixtures, appliances, and hardware, The Kitchen Shop is truly a one stop shop for all your remodeling needs. Our team offers over 300 years of combined experience in kitchen design and a master skill set to ensure the vision you have for your kitchen is brought to life.
When you're ready to make your kitchen dreams come true, we'll be there for you every step of the way to help make it a reality!
---
Connect with us today for more information and get if you're ready to start your kitchen remodeling journey schedule an appointment with one of our talented design consultants.
The Kitchen Shop is a West Michigan's premier kitchen and bath design and remodeling center with locations in Lansing, Jackson, Battle Creek, and Kalamazoo.